On Monday, the ceremony took place in the Iranian Navy of the largest Iranian ship in the Caspian Sea of ​​a light frigate "Damavand" (project "Mowj"), the blog
bmpd
with reference to "imp_navigator".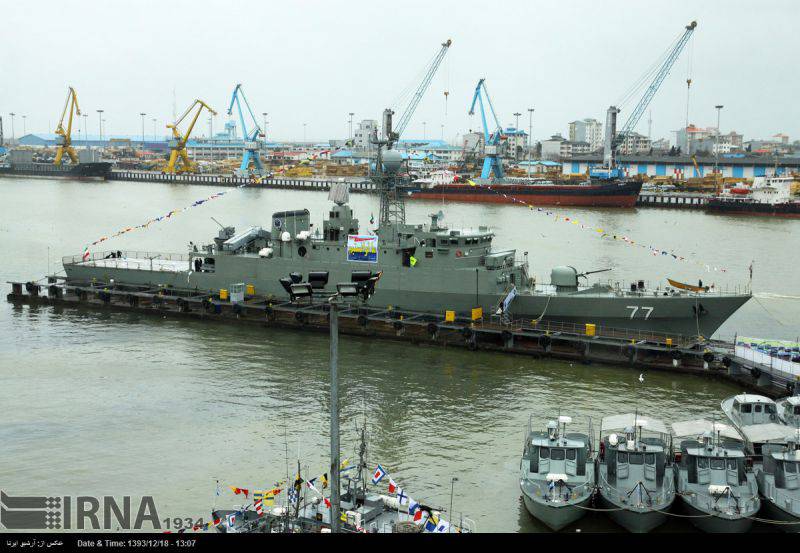 Damavand was launched on March 2013 in March and began factory testing in July on 2014. This is the second ship of the project, the first transferred to the Navy in 2010, off the coast of the Persian Gulf.
"The Mowj project is in fact a consequence of the reverse engineering of Iranian frigates of the British-built Vosper Mk 5 project and the modification of the project to the capabilities of the Iranian military industry," the blogger writes. Today it is the largest ships independently built by Iran for the entire
history
. Their total displacement is about 1500 tons.
According to the author of the article, "the main armament of the frigate Demavend is 4 PU Nok / Ghader PUK (Iranian copy of C-802 and its upgraded version with increased range), 2 PU Mehrab anti-aircraft missiles (copy of SM-1), 2Х3 324-mm torpedo tubes, 76-mm AU Fajr 27 (copy of Italian Oto Melara 76 / 62 Compact), 40-mm AU Fath (copy of Bofors L / 70) and, presumably, 2 light single-barreled 23-mm installation. "
The frigate is named after the Demavend volcano with a height of 5610 m, located in the Caspian province of Mazandran.