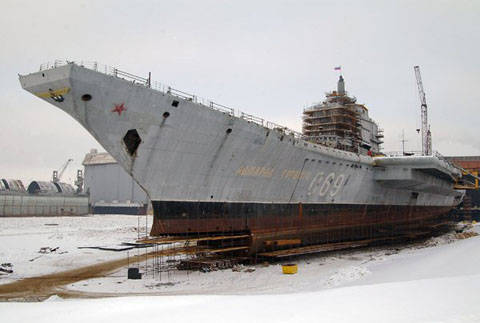 20 September 2011 G., Aviation Explorer - The readiness of the heavy aircraft carrying cruiser Admiral Gorshkov (Vikramaditya), modernized for the Indian Navy, is more than 85%, Interfax reports.
"The readiness of the ship is already more than 85 percent," said the representative of the delegation of the joint headquarters of the Indian Navy, the head of the production and procurement department of ships, Vice Admiral Nadel Nirajan Kumar. At present, the delegation of the combined headquarters of the Indian Navy is at the Sevmash production association with an inspection check.
"Today, the work is proceeding according to schedule, and the technical problems that arise are largely solved thanks to Rosoboronexport, which always supports us. I am confident that the ship will be handed over to the customer in December 2012," said Roman Trotsenko, President of the United Shipbuilding Corporation.
Earlier it was reported that the contract for the modernization of TAKR Admiral
Fleet
Soviet Union Gorshkov "(in the Indian Navy, it will be called" Vikramaditya, which means "Almighty") was concluded with India in 2004. The contract provided for the allocation of $ 974 million for the restoration and modernization of the ship, as well as $ 530 million for the supply of 16 fighters MiG-29K and Ka-31 and Ka-27 marine anti-submarine helicopters.