Israeli Minister of Information: someday common sense will win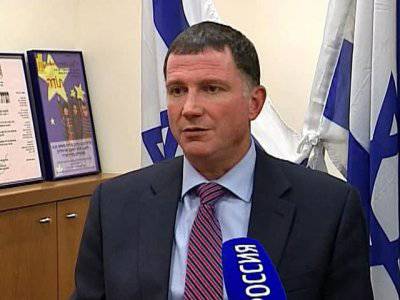 In the Arab world, anti-Israeli sentiment is on the rise again: relations with Turkey have worsened, and Palestinian autonomy, as never before, seeks autonomy. Will Israel be able to get through this difficult period, avoiding the escalation of tension and direct violence? His opinion in an interview with the channel "Russia-24" expressed the Minister of Information and the Diaspora of Israel, Yuli Edelstein.
According to him, historical changes are taking place in the region. "But with all our desire to influence a lot, Israel is far from always able to do this," the minister noted. Speaking about the changes in the Arab countries, one should understand that on the one hand, Israel is glad for them, the politician stated.
"I really hope that in 20-30 years we will finally get rid of the often repeated phrase that Israel is the only democracy in the Middle East. And we can replace it with the phrase that we are one of many democracies in the region. But at the same time It also shows the experience of many eastern countries, this process is long, it requires a very serious transition period. And how long it will last is not clear, "stated Yuli Edelstein.
At the same time, the Minister of Information and the Diaspora of Israel expressed the hope that, in the end, common sense would triumph, and the region would see some comfort. "But for now, at least in the coming decades, the situation will remain unstable due to internal processes in many states of the Middle East. A lot of time will pass before they settle," Edelstein summed up.
Ctrl Enter
Noticed a mistake Highlight text and press. Ctrl + Enter