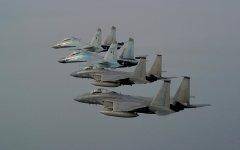 Minsk intends to acquire 18 Russian fighters that were delivered to India under 90's contracts. The aircraft will be upgraded at the plant in Baranovichi and will go into service with the local Air Force.
Russia and India signed a contract for the supply of fighters back in 1996, reminds Kommersant. However, at that time Moscow was not able to provide the contracted planes of the "advanced" configuration - Su 30-MKI. It was decided to put the first 18 machines in a simplified version - Su-30K, and later to replace them with the same number of "advanced" aircraft, returning the Su-30K back to Russia.
According to newspaper sources, used planes in India are being prepared for shipment to Belarus. There, at the 558 aircraft repair plant in Baranavichy, there are already 10 fighters that are being transported in a disassembled state. Experts interviewed by the publication note that the technical condition of the aircraft "leaves much to be desired" and the Russian Defense Ministry is unlikely to spend money on their overhaul.
Earlier, President of the Republic of Belarus Alexander Lukashenko announced his intention to buy Russian fighters for the Belarusian Air Force, but the market value of the vehicles was too heavy for the country's budget. Buying used aircraft may be particularly relevant in the light of the events of the first half of 2011. In Belarus, the economic crisis continues, which began with a currency deficit in January. According to IMF experts, the pre-election wage increase was the cause of the crisis. The Belarusian ruble exchange rate for the period from April 2011 of the year to 14 of September, when free local currency trading began, collapsed from 3000 to 8600 Belarusian rubles per dollar.