The official
Interpol website
material has appeared, which says that the ex-president of Ukraine Viktor Yanukovych is wanted. It is reported that the search is conducted for prosecution or punishment. The site used exactly this wording. It seems that Interpol decided to meet Kiev, in which it was stated that at the request of Russia, Yarosh Interpol had announced the international wanted list, but Yanukovych and some of his associates did not.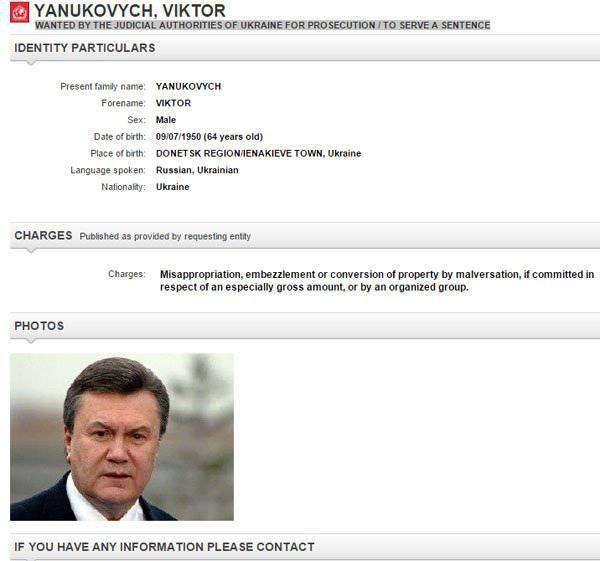 Now Yanukovych is internationally wanted. This was decided on his Facebook page to write and the Minister of Internal Affairs of Ukraine Avakov (the text is printed in the version presented to Facebook by Avakov himself):
Today, several months after the appeal in March 2014 of the year, the arguments and the preparation of explanations, Interpol, at the prepared requests of the Ministry of Internal Affairs, the Prosecutor General of Ukraine and the Security Service of Ukraine, a special Interpol commission made a decision.

Announced to the international Interpol wanted list (red card - detention for extradition to Ukraine): Yanukovich Viktor Fedorovich, Yanukovich Alexander Viktorovich, Azarov Nikolai Yanovich, Bagatyreva Raisa V., Kolobov Yu.V. (ex-Minister of Finance of Ukraine), Dzekon GB (ex-head of Ukrtelecom).

Work with Interpol on a number of other characters accused by Ukraine continues.
I will remind you. Earlier, Interpol's wanted list were: Stavitsky E.A., Kurchenko S.V., Arbuzov S.G., Klymenko A.V., Ignatov A.P., Dinin A.V.
In a message, Interpol calls on everyone who knows about Yanukovych's place of residence to report to this structure. So they will come right, so they will directly arrest ...?
On the one hand, one can argue about whether Yanukovych is so valuable for Russia that Interpol is not to be extradited? But on the other hand, why should not Russia submit to Interpol documents for the "search" of Avakov, Turchinov and Yatsenyuk, who unleashed a bloody civil war in Ukraine at the hands of overseas henchmen? The list is quite possible to make and the acting ukropresident Poroshenko. And then think about the fact that the list clearly lacks the names of a number of Western people who sponsored a bloody coup in Ukraine (and not only in Ukraine).