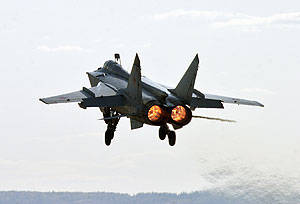 The MiG-31 combat aircraft crashed this morning in the Perm Territory near the Bolshoe Savino airport. Nothing is known about the fate of the two pilots, journalists told the Ministry of Defense of the Russian Federation.
The incident occurred early in the morning, reports RIA "
News
"The fighter flew from the military airfield in Perm to 06: 48 local time and disappeared from the dispatchers' screens only 4 minutes after takeoff. Soon it turned out that the plane crashed near Bulgary village." He sat down on the arable land, flipped over and burned " - clarified in a conversation with journalists a source in law enforcement agencies.
The regional Ministry of Emergency Situations confirmed that the fighter crashed in 11 km from the Bolshoe Savino airport. "The message about the crash of the aircraft came to the duty shift of the crisis management center in the Perm region in 08: 55 (06: 55 MSK). The MiG-31 fell immediately after takeoff in the area of ​​the village of Bulgary," said the official.
According to the official representative of the Ministry of Defense of the Russian Federation, Colonel Igor Konashenkov, the fighter carried out a planned flight. The crash site was discovered using a Mi-8 search and rescue helicopter. The search and rescue team, 89 people of personnel and 15 units of equipment, is sent to the state of emergency.
The causes and circumstances of the crash are not yet known. The fate of the two pilots who were aboard the MiG-31, it turns out. According to preliminary data, the fighter is completely destroyed, the crew was killed. "There were no victims and destructions at the site of the fall," said Konashenkov. At the same time, information is received from the scene that the plane fell on garden houses.
This is not the first MiG-31 catastrophe in the Perm region. Last November, an interceptor fighter crashed 60 km northeast of the Bolshoe Savino airfield. Then the pilots managed to eject, as a result of the incident no one was hurt. Shortly before the fall, the interceptor crew reported that the car was in a corkscrew. Shortly after the disaster, the Russian Ministry of Defense, as usually happens in such cases, suspended MiG-31 flights until the causes of the incident were ascertained.
The MiG-31 is a double-supersonic interceptor developed in the USSR at the turn of 1970 - 1980's. The fighter of the fourth generation made the first flight of the USSR Air Force in 1982 year. The maximum speed of the fighter is 3 thousand km / h, the range without ammunition - 3,3 thousand kilometers. The maximum flight height is 20,6 thousand meters. Armament consists of 23-mm cannon and short-range, medium and long-range guided missiles. Combat load - 3 thous. Kg.