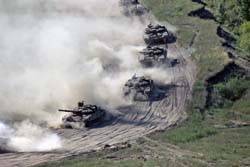 For the first time, samples of Vostok-2010 in the Trans-Baikal Territory used samples of new military equipment, in particular, heavy flamethrower systems, aerosol masking machines and masking foam coatings, false crossings of a conventional generation.
New military equipment is applied when crossing the Onon River.
According to the press service of the Siberian Military District,
tank
units forced the river under water to a depth of 4 meters, their successful consolidation on the opposite bank allowed the main forces to deploy to combat operations in designated areas.
Recall, the teachings are 29 June-8 July in the Siberian and Far Eastern military districts. The troops and military equipment of these military districts will take part in them, in addition, units from the Moscow and Volga-Ural military districts will be sent there without military equipment.
According to the plans of the military, during the maneuvers almost the whole complex of questions of operational art and military strategy, including strategic redeployment of troops from one theater of war to another, offensive and defensive actions, is worked out.
The exercise involved up to 20 thousands of military personnel, up to 70 aircraft, up to 2,5 thousands of weapons, military and special equipment, up to 30 ships. In advance, the aircraft was relocated from the European part of the country to military airfields in the areas of maneuver. At the same time, Su-24M bombers and the latest Su-34 fighter-bombers made an eight-hour flight without an intermediate landing with two refueling in the air, covering a distance of more than 8 thousand kilometers, reports NEWS.ru.