The third border patrol boat of the Sobol project has been launched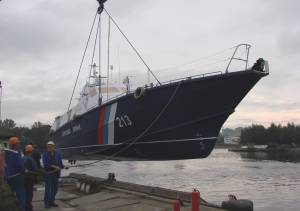 The launching ceremony of the next, third for 2011 year border patrol boat 2-rank project 12200 "Sobol", serial number 213, took place on September 1 at OJSC "Sea Factory" Almaz ".
The ceremony was held in the operating mode - for the factory workers, "Almazovtsev" this is already 14 on the general account "Sobol". Despite the everyday situation, a considerable number of employees of the company gathered to look at the process of launching into the water. The long-standing maritime tradition was observed - a bottle of champagne was smashed against the hull of the boat.
The honorable role of the godmother was performed by the engineer of one of the departments of the plant - Marina Grishina. After a few minutes, the floating crane easily picked up the hull of the "Sable" and gently lowered it into the water of the Neva near the factory extension wall. By the end of September, the boat according to the plan must pass all tests and handed over to the customer - the Coast Guard of the Federal Security Service of the Federal Security Service of Russia. 213-th "Sable" is designed for service on the Black Sea.
The hull and superstructure of the boat are made of high-strength aluminum alloy. All installed equipment and materials used fully comply with the best international standards used in the construction of high-speed boats.
To improve ride quality and speed, the boat has bow and stern automatically controlled spoilers.
The length of the boat - 27,96 meters, width - 5,82 meters, full displacement - 58,5 tons. The maximum travel speed reaches 50 nodes. The autonomy of the boat with passengers on board is 3 days. The crew of the boat consists of 9 people.
Ctrl Enter
Noticed a mistake Highlight text and press. Ctrl + Enter