A ceremony of raising the flags of the auxiliary took place at the shipbuilding enterprise Almaz
fleet
Russian Federation on two marine floating cranes. At the ceremony, Deputy Minister of Defense of Russia Dmitry Bulgakov. His words are quoted by a news agency.
TASS
:
Until the end of 2015, it is planned to complete the construction of another 7 ships of this project, which will be gradually incorporated into the Pacific, Baltic and Black Sea fleets, one of which will also become part of the Northern Fleet.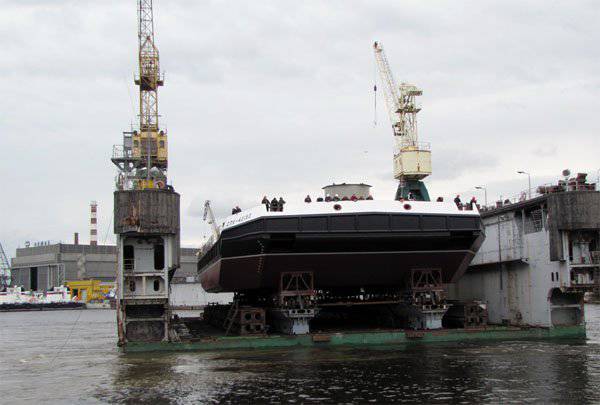 Self-propelled floating cranes are designed in such a way that they are designed for payloads up to 150 tons - depending on the modification. In this case, the minimum capacity of such vessels is about 35 tons. The main direction of use of such equipment is associated with the work of fitting the chains for fixing floating berths, the installation and dismantling activities of the road equipment, and the carriage of various types of cargo on the upper deck.
Some technical characteristics of cranes:
The autonomy of the voyage is 10 days, the displacement is 2000 tons, the length is 50 m with the width 22м. The cruising range is up to 3,5 thousand nautical miles (about 6,5 thousand km).