Having canceled the transfer of the first Mistral, the ceremony of which was to be held on Friday in Saint-Nazaire, Hollande put himself in an utterly delicate situation. The deadlines have expired, and Moscow is very calm, but clearly made it clear: if the goods are not before the end of November, significant financial claims will be brought against France. Reports about it
Rossiyskaya Gazeta
.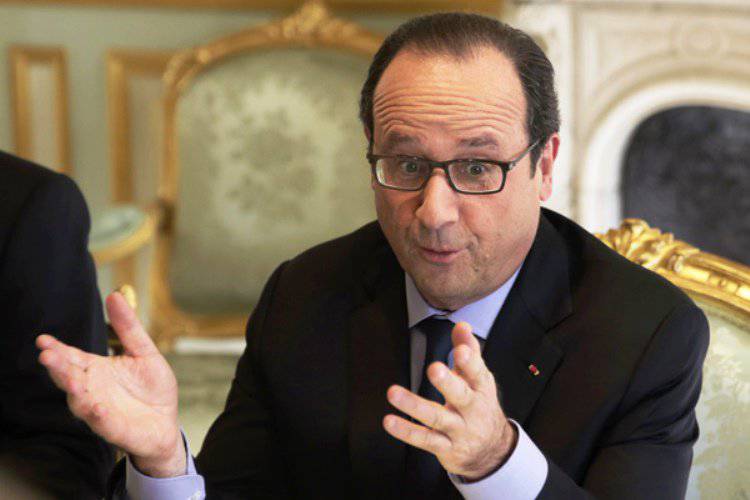 As the Paris press writes, "Mistral pressed France's head Francois Hollande with his back to the wall." However, according to ex-President Nicolas Sarkozy, during which the contract was signed, there is a way out, and it lies on the surface.
Speaking at a rally on Saturday, Sarkozy called Russia "the natural partner of France," and said that Hollande was obliged to give her ships. He also called unworthy the decision of the current socialist president to freeze the contract, which he made on the eve of the September NATO summit in favor of Obama. At the same time, Sarkozy recalled the old DeGoll principle:
"France should determine its own position, and not follow anyone's advice or wishes."
According to Jacques Sapir, a well-known political analyst and director of the Paris School of Social Sciences, "the solution (Hollande) is likely to be delayed as much as possible, hoping that a kind of" window of opportunity "will open." "
Of course, Paris would like to close this contract by transferring the ships of Russia. This is a question of money, which is important in the face of current financial difficulties and serious reputational losses that the French defense industry will suffer if the transaction is canceled. However, in no case should we ignore the pressure put on Paris by the NATO allies. And this is not only the United States. What, in my opinion, Francois Hollande fears most of all, is a split of consensus within the European Union, where many, and not only Poland, Baltic countries have a negative attitude towards the supply of Mistral to Russia. "
- said the expert.
According to Sapir, "the image of France in this
stories
appears in far from the best light. "
"It turns out that the French government assumes obligations and is unable to fulfill them. It is not difficult to guess how potential customers of our defense products will react now, for example, Brazilians or Indians, with whom we are negotiating the sale of Rafale aircraft. "
- he said.