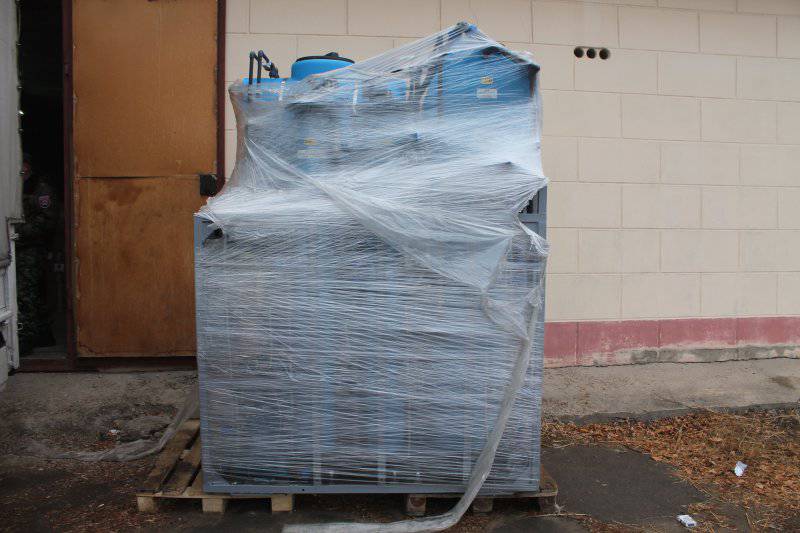 Dear readers, apparently, it is time to change the definitions and introduce new ones. Everyone knows who such friends are. Everyone understands who the enemies are. And if neither this nor that?
October 20 in my seventh report, I wrote about the filtration plant, which we still got problems with Donetsk. A month has passed, but the installation, as you can see from the photo I took on 12 November, is still there ...
But for two months a person from the government of the LPR "bore brains" to the Russians, convincing them of the need to supply this installation. He spoke about the threat of dysentery for Luhansk residents. Naturally, the Russians took everything to heart. As usual, however.
The Voronezh Chamber of Commerce and Industry has implored one "tricky" design bureau to assemble an ELSE one installation as soon as possible and send it to Voronezh. She, with the help of a non-night office, found a couple of psychos who volunteered, without dismantling the installation, to deliver it unscathed for 500 km. And delivered.
A certain Zhenya "Zarya" was supposed to meet, seemingly as an authorized representative of the government in Donetsk. Did not meet. Did not provide unloading. Did nothing at all. He simply did not wait for us that day and left for an unknown destination.
Nothing, we did not cope with such problems. With the help of the Mechanic, everything was unloaded.
What's next?
Further installation as was, and still stands. In warehouses "Ghosts", under their protection and defense. And no one cares about her. Except me, probably.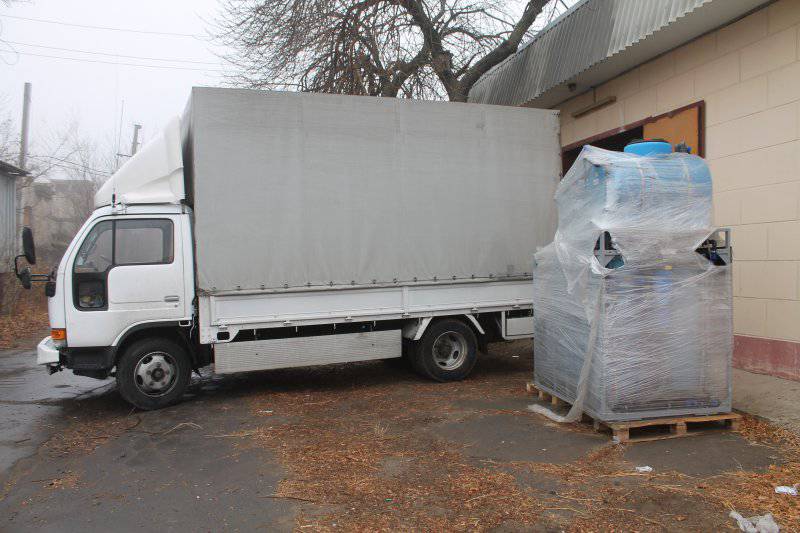 Here she is. As it stood, so it stands. Against the background of our "Condor".
I tried to reach the type that Zhenya pointed out to me. Type called from Lugansk, sort of like from the government of the LC. But he did not answer my calls.
I dialed the number of a person from the Voronezh Chamber of Commerce and Industry and described the situation. He promised to intervene, but alas, another week passed, and the cart (that is, the installation) was still there.
And who is the cause of this celebration? And a certain Gennady Tsypkalov. Vice Premier of the LC. It was he who tearfully begged to deliver this installation to him. It was he who took her under the camera sights solemnly in Voronezh. And eloquently thanked on behalf of the people of Lugansk for the prospect of using clean water. And he is quietly ruining this prospect in the bud.
I now do not understand that, water supply in Lugansk improved? I ask - it seems not, only it became worse. Where there is no water at all, where they give for several hours a day. In the river, perhaps, the spring flowed? Also no.
What is the problem?
Apparently, the elections took place. And the gentleman (he doesn't turn to name a friend) Tsypkalov, retaining his chair and rations, calmed down. Familiar, the Russians? Yeah !!!
Nothing changes, right? So it turns out that a person seems to be a friend to the New Russians in terms of position and position, but somehow it's not very good ... Foe, in short. Although in the good old days there was such a definition as "pest." And then it was evaluated accordingly.
There is no need to talk about sabotage yet, although the arguments that Tsypkalov and his staff brought, to put it mildly, at the elementary school level. But wait a little more.
Mr. Tsypkalov! I promise that I will not calm down until the installation gets up where it was intended and starts to give water to the people of Lugansk. Honestly. Keep this in mind.