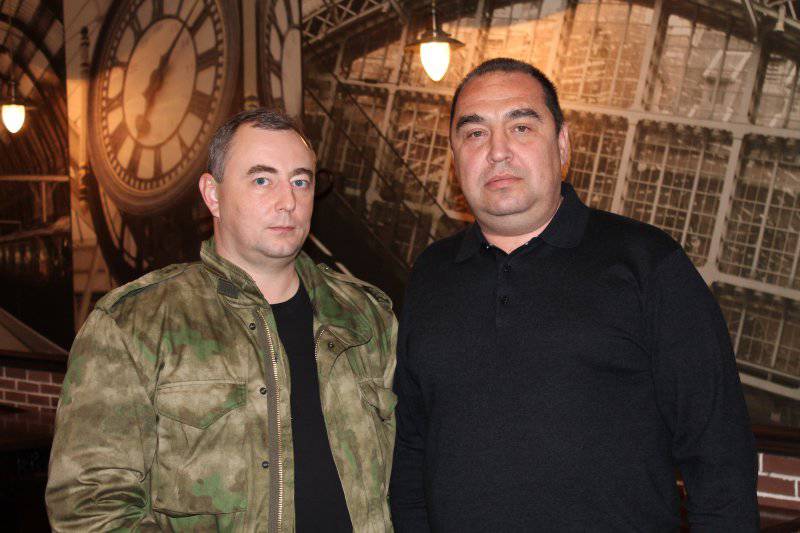 The long and winding paths of our lives brought me together with Igor Venediktovich Plotnitsky, the head of the LC. The meeting was quite short, but informative. For the first time in my life I spoke with the head of the republic. Let it be small by our standards, albeit unrecognized, but still ...
To be honest, I was pretty surprised. The media image of the Plotnitsky is very different from his usual, vital. I liked the second more. From Igor Venediktovich breathes such peace and confidence that unwillingly you begin to imbued with faith in the words of this person. Personally, I really liked it. And even more like the fact that, despite the workload, he was able to give me his time. Yes, and invited to visit in Lugansk. And I will definitely use this invitation in the near future. No joke ...
I recorded our conversation, I suggest you familiarize yourself with it.
- On behalf of all readers of the Military Survey, let me congratulate you on your victory in the elections and wish you success in bearing this heavy burden. There are a lot of people among us who sincerely and wholeheartedly wish it.
- Thank.
- To begin with - in a few words about yourself. What kind of man is Igor Plotnitsky and what has he been doing up to now?
- I came right after Odessa. More precisely, in a few days. During the storming of the SBU. I talked to the participants. We talked about the legal basis and the meaning of this entire national assembly. But I did not take such active participation then. Fully I came exactly 3 May, when the events happened in Odessa. And on May 5 I was authorized to create the Zarya battalion. And during the 27 days the battalion was created at 80 percent. And the first battle, when "Aydar-1" was defeated, led my battalion. Our battalion.
The battalion was a people's liberation. We took everyone. Only volunteers, no mobilization. People of different ages came. The youngest was not yet 18, the oldest - 77. It is clear that he was not at the forefront, but nonetheless the person contributed to the housekeeping. Did not refuse anyone. We have people from different cities, even from Odessa. Sniper, still fighting. Mother collected his bag and said: "Go, hit the fascists." So he beats ...
After the battalion was established and baptized in combat, I was appointed to the post of Minister of Defense of the Luhansk Republic. It was a difficult period, July-August. Lugansk was something akin to Leningrad. We had no light, no water, no connection. But we persevered. Thanks to all the help that Russia provided to us.
I will even tell you what I haven't told anyone yet: everyone knows that Russia helped humanitarian aid. And we always talked about it openly and gratefully. But during all these events, we were confident that in every city, every village, in every village there are people who sympathize, empathize, pray for us — this is a completely different feeling. It is difficult to describe in words.
Fate decreed that the Donbass was on the front line of a new war against fascism. And we understood that in such difficult moments the family should come together. And not because in Russia the standard of living is higher, no. Because we have a common enemy.
After Bolotov left, I was appointed Acting head of the republic. And after the elections I am the head of the Lugansk People's Republic. Here is my biography in the LC.
- Tell us, what are your current priorities as a chapter?
- Naturally, the economy. You know, I am proud that the people who stood for five to seven hours in the queue to vote, gave me the right to make such decisions. We are not building a republic for anyone. For the people. And our people should feel that we are doing everything to change the situation. He deserves it.
A lot of people have shown that they are not interested in life in our former country. In Ukraine. They are no longer interested in that Ukraine, the country of Nazism, the suppression, the burning of books. We have repeatedly stressed that we are not at war with Ukraine. We fight with oligarchs and fascists. But not with the Ukrainians. In fact, Ukrainians are a calm and hard-working people. Until that happened, what happened. After all, when Goebbels said: "Give me the people and the media, and in twenty years I will turn any people into a herd of pigs." That year's 23 has passed. It is an indisputable fact that Nazism was reborn. And comparable to a fire in the forest. If it is not extinguished in time, it will go in all directions. And not only to the east, as predicted. I look, and the Poles are beginning to realize, and other countries too. And the ocean will not become a barrier, I'm not talking about Prague, Berlin and Vienna ...
At one time, I proposed reviving an anti-Nazi coalition led by Russia, the United States and Great Britain to prevent a new war.
- War ... But on the other hand, light, water, heat, food ... for civilians ...
- War is a terrible phenomenon. This is a disaster for any nation. This is blood. This is a loss. But at this terrible time for our people there was a repetition of what was in the Great Patriotic War. The unification of the people. Rallying We survived in those terrible months. And now, when there are no those terrible attacks, when we almost restored the supply of water and light to the houses, the people who left at that time return. This is an indicator.
Many people ask me whether Russia recognizes us, whether the West recognizes us, and so on. In such cases I always remind one
historical
fact from the 18th century. When on July 4 a colony signed the Act of Independence, for the metropolis (Great Britain) the inhabitants of this colony were the same separatists and terrorists. So let some remember the lessons of their own history and do not call for help to those who were called separatists. The USSR until 1933 was also not recognized ...
Recognition is a political issue. If we stand firmly on our feet, if we can create an economy and revive the industry, recognition will follow automatically. It's a question of time. Especially, by the way, our industry is 80 percent tied to Russia. And everything that we produce is needed by Russia. And our people are ready to work. So there will be no problems on this side. Economy - to be. And we will restore the destroyed.
- In fact, the people of Russia recognized Novorossia. It's a lot?
- The recognition of the people is the highest that can be. What the Russians recognized us only says that we are so close both spiritually and mentally and geographically. We are the illegally cut off part of the Russian world. And it will come, that moment will come when we return to our home. I always cite the words of Scripture: "Whoever can wait, everything comes on time." We are ready to wait.
- I have this question: tell me, as a person who is not an acting person, not a leader, but a person, was it not scary to sign the Minsk agreements? After all, not everyone has caused positive emotions ...
- There were some unpleasant moments, I will not hide it. But the question was different: what will we shed - sweat and ink or blood? And the party that said that if there is even the slightest opportunity to shed no blood won, it was necessary to shed sweat and ink.
- I understand. But, having tried to present myself in your place, I realize that this is at least difficult and difficult. And it would be a shame to get "misunderstanding" from their ...
- It could be. But the elections showed that people understood and supported me in this matter. Damage and death are irretrievable losses. And ink and sweat are mind, work and maybe a little tricks. We did not sign anything that would harm our interests. Even the law that Poroshenko is trying to abolish on special status. It is about a separate territory that does not obey the laws of the state. But what is it then, if not recognition?
- What do you think about the continuation of hostilities?
- The war will not scare us. One lesson was. It will be necessary - we will make every effort to give the second. We have more people today. Moreover, I am sure that in the event of a resumption of hostilities, there will be no such flow of refugees. People will fight. People had to make their choice, come to this. And they made it. Yes, someone left. But there are those who have already returned, and are unlikely to leave again.
We have a banner, we call it the Banner of Victory. I handed it to our first brigade. And the Reichstag is already defined ...
- It is disturbing that Lugansk is actually still under siege. Much destroyed, many objects not under your control. The power station in Happiness, which actually holds Luhansk by the throat ... How to be?
- I agree, the question is complicated and difficult. However, I remind you, there was such a picture, a heron caught a frog ... "Never give up." Now a similar situation. Stalemate. Ukraine can not contain this TPP, we can not yet take it under control according to the concluded agreements. It turns out a symbiosis of concessions and agreements.
- So there is a dialogue?
- There is. They need coal, we need energy. We do not go to the seizure of thermal power plants due to the fact that if it is damaged, the northern territories of the LPR, which are under the control of the Ukrainian army, will remain without energy. One could take the risk that there are capacities with which to cover the deficit, but this would mean stopping the industry. And it would be possible to spend the winter. It was hard, but they would win over. But in the north without energy, the situation would be catastrophic. And it's great that Ukraine understands this too.
The dialogue is on. Very difficult, very difficult, but - dialogue. On the other side an ambitious folk, able to observe the benefits. But we know how to insist on their own. Moreover, it is our people in our land. Albeit temporarily occupied.
- Are you sure that there are chances of mutually beneficial existence?
- Not just the odds. There is no other way for us or for Ukraine. I will repeat once again, we do not want to live in Ukraine, but she still remains our neighbor. Why quarrel and bring to distraction a quarrel? We already had a fight to the blood, we are ready to forgive them if they repent. But first repentance, then forgiveness. And to stop economic relations is nonsense. We will act on those conditions that are primarily beneficial to us.
All these stories about the subsidization of our regions are lies and fairy tales. We have the richest areas for mineral resources and land resources. We fed Kiev, being the basis of the pyramid, "sharpened" under several oligarchs. Remove the pyramid - and the benefits and resources will be enough for everyone, even with an excess. If the republic is really national, it means that the people should not only get, but also participate in the creation of their republic. And the people really turned on.
- Last question: how do you see the future of the Luhansk region?
- How ... Better, worse - this is relative. The question is, what is all this for? This is not just a process when people said: "We want to live with Russia," and there we are no longer responsible for anything else. Not. It so happened that we have to live alone. Learn to. Revive the economy. Himself reborn spiritually. After all, for the mistake that we made 23 a year ago, by voting to remain a part of Ukraine, we paid the highest price. It is necessary to correct. Even at such a price.
- Well, not quite alone, I guess. There, in the east, there is a neighbor who will always help ...
- We know. But this is not a neighbor, it is still part of the family. Many people ask, here's how you get help all the time, isn't it embarrassing ... And if parents help children, what is it about shame? These are not loans, this is not a debt pit, this is family assistance. We regard it as that. But remember that children should also help their parents. When they grow up. Here we have this attitude to Russia and the Russians. We are part of the family. And sooner or later we will come home.