All-Ukrainian obscurantism has reached public catering in this state. Channel Site
LifeNews
publishes excerpts from the menu of the Odessa Champion sushi bar, located on Dobrovolsky Avenue. From Monday 10 in November, the visitors of the sushi bar menu saw such novelties as (
source spelling saved
, please do not report any spelling errors):
Glory to Ukraine, Fried Titushki and Separatist with Grilled Salmon
.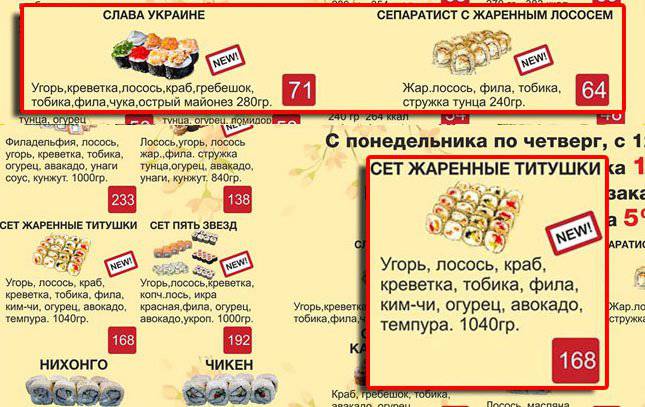 Considering the fact that a monstrous crime was committed in Odessa 2 May 2014, such names do not look like "good Odessa humor", as some Ukrainian citizens and employees of the establishment themselves try to convince in social networks. And this is not the first such case in Ukraine. Before Odessa, dishes with similar names were noted in Lviv region, where even before the Maidan twists and turns in one of the cafes, visitors were offered to taste such dishes as
"Moskaliki drunk carse-like", "Wehrmacht Weekdays" and "Nachtigall Smile".
Some residents of Odessa, who saw the menu of "Champion", said that with their trick the representatives of the sushi bar themselves would push away from their establishment many customers.