The Navy of the Russian Federation received a new landing craft of the 21820 "Ivan Kartsov" project, built by Vostochnaya Verf OJSC, reports
"Russian newspaper"
. This is the first serial ship of the latest and unique sample. Until the end of this year, the Navy can get another boat "Denis Davydov", which has already completed the program of state tests.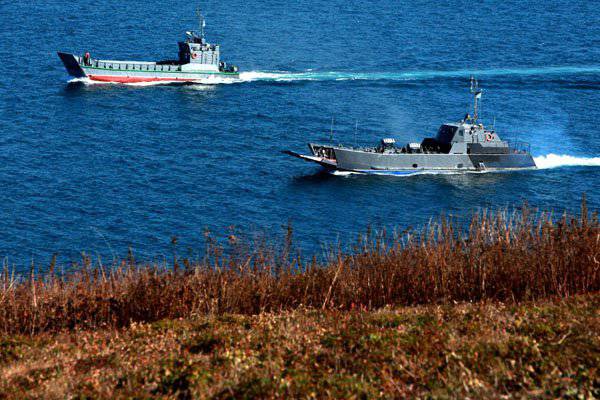 The development of the project 21820 "Dugong" was carried out by specialists of the Central Design Bureau for the SEC named after R. E. Alekseeva. " They managed to create a ship that has no analogues in the world, primarily due to the ability to quickly land personnel and equipment on unequipped sections of the coast. Although the boat's dimensions are relatively compact: 45 meters long and 8.6 meters wide, it can carry up to 3
tanks
or 5 armored personnel carriers, as well as up to 90 paratroopers.
The speed of movement of ships of this project reaches 35 nodes (approximately 65 km / h). In this case, they are not afraid of waves up to three and a half meters.
The armament of the Dugong boats includes two 14.5-mm machine guns, as well as 8 man-portable anti-aircraft systems. The ship's computer "stuffing" consists of the MIVK 6P-08B computer system, the Agat-M3 autopilot, and the GKU-5 gyro indicator.
The lead ship of the Ataman Platov series, which is part of
fleet
since 2010, has already managed to establish itself well in the Caspian flotilla.