Blog
bmpd
reports that October 24 at the Pella shipyard in Leningrad (Leningrad Oblast, Otradnoe) was launched the multi-purpose sea-rescue tug MB-121 (project 02980, building number 801). The vessel is almost in full readiness.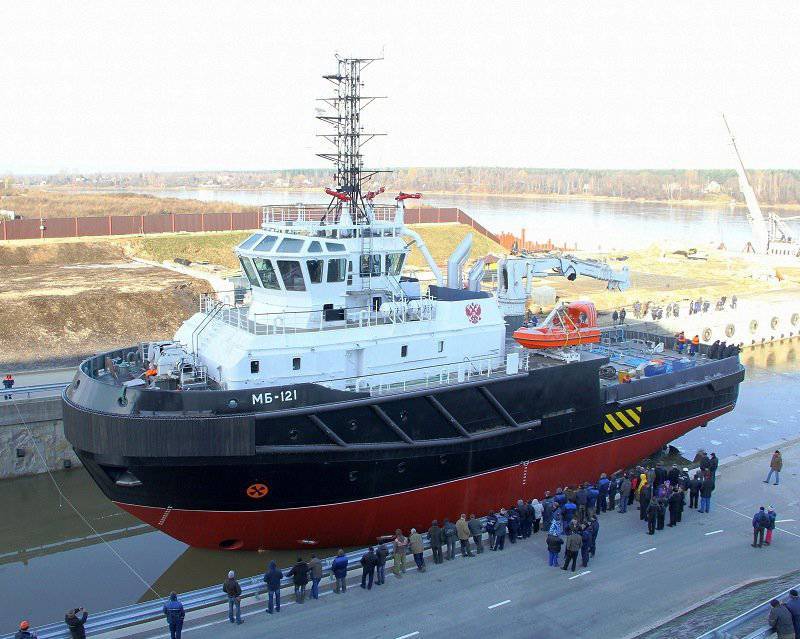 "This 48-meter tug is the first ship of a new project, a series of which is being commissioned by the Russian Navy to solve a wide range of tasks fleet. It was laid July 22, 2013. It is assumed that by December 1, 2014 MB-121 will become part of the Leningrad Naval Base "
- indicates a blogger.
Total ordered 4 tug. The second ship is at the completion stage. The third case is laid 17 October, and for the fourth metal is already cut.
The author notes that "the launch of the MB-121 was made with the help of the ship launch channel of the new shipbuilding complex of the Pella plant, which uses modern technology of longitudinal launch of ships on a wedge-shaped platform with a high degree of automation."
The vessel, which is on special supports, is lifted along with these supports and moves along the exhaust paths to an open slipway by a device called a ship train, which consists of 10 pairs of electric and hydraulic drives.
"Ship-train" moves the ship with supports to the wedge-shaped platform and with the help of winches it moves down along the ship-launch canal. Tilt angle - 3 degrees. Gradually, the platform is immersed in water, and the vessel remains afloat. The depth of the canal at the place of the full ascent of the vessel is 20 m.
Construction of the second multi-purpose tug project 02980.