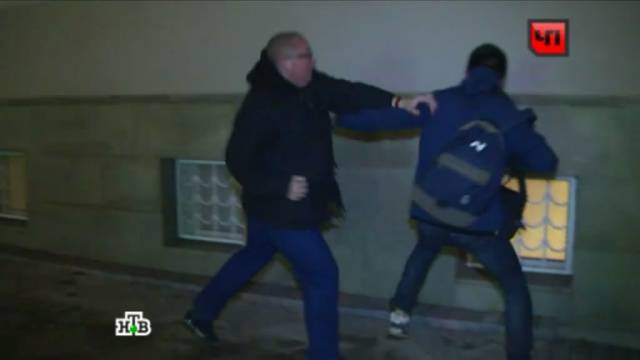 Yesterday, in the office of the party RPN "PARNAS", the film "Our Hope" was shown about the Ukrainian "pilot," a cold-blooded killer, Nadezhda Savchenko.
Despite the fact that free admission was announced on the event website, activists of the NOD and the ECM, who came to the premiere, were rudely denied entry.
The activists wanted to familiarize themselves with the content of the film, and after the film to debate with opponents. However, due to the fact that they were never let through to the show, they stood in front of the entrance, holding small leaflets with the inscriptions: "Savchenko is the highest measure!", "Kiev junta - under the tribunal!" And "Savchenko is a murderer!" ". For some time, they simply stood and talked to the press and bystanders, not yielding to provocations from representatives of the "non-systemic opposition", but soon a young guy approached them and with a cry of "Glory to Ukraine!" Sprayed gas from the aerosol spray. into the eye of an ECM activist, after which the assailant disappeared. Some time later, a large man, who was shown to the screening of the film "Our Hope", shouting obscene insults to the NOD representative Maria Katasonova, approached her, tore off the Novorossiya stripe, we are with you, and hit the girl in the chest, after that attacked the journalist of the news agency "Reedus", a scuffle ensued, in the course of which the next blows were inflicted on Maria and the correspondent, and gas was sprayed out of the can again. The organizers of the show and the "belolentochniki" who were on duty at the entrance did not react at all to what happened, some of them even expressed satisfaction with what was happening.
The police officers who arrived at the scene (it remains unclear who called them) invited the victims to go to the police department and write statements.
At the moment, the victims have written applications, underwent a medical examination. Fortunately, the attackers were able to capture NTV and Reedus with cameramen.