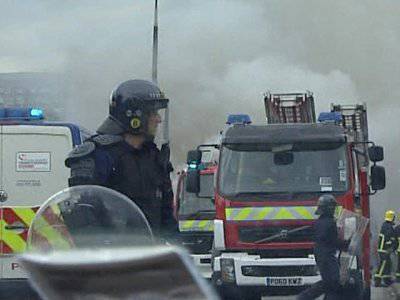 Police managed to take control of the situation in London. Maybe it was the fact that the streets were patrolled by almost 16 of thousands of policemen, and perhaps the threat of the authorities to shoot at marauders with plastic bullets. But in other cities of the kingdom - Manchester, Birmingham and Liverpool - the rioters felt free. They burned cars, robbed shops and even broke into houses.
The unrest in England is gaining momentum every day. It seems that burned London is no longer attractive for marauders. And now they are spreading other major cities of the country. On the eve, the law enforcement officers barely managed to cope with the bullies in Birmingham. But the police rather pushed the crowd back - the rioters left the center and went to smash its suburbs. Several police stations and shopping centers were burned down in West Bromwich near Birmingham.
In Manchester, police officers with heavy shields and batons simply could not catch up with all the robbers. Of the hundreds who attacked supermarkets and restaurants, only 15 people were detained.
"It's very sad and insulting to see marauders destroying shops and restaurants. For many, it was a family business. People worked a lot and provided jobs for others. Now many are unemployed," said Boris Johnson, Mayor of London.
Unrest continues in Nottitham, Liverpool and Bristol. Services have appeared on the Internet, where all incidents are tracked online. And particularly enterprising citizens even marked all the UK hot spots on the maps.
Relatively calm last night was only in London. After the emergency committee meeting, which was headed by David Cameron, more than 16 thousands of police officers were sent to the capital. But after three nights of chaos, local people no longer expect protection from the authorities. Men gather in self-defense units. And women and children remove traces of pogroms from the streets.
In the meantime, the investigation into the death of Mark Duggan - with his death and the riots in the UK began. The experts established that there was no pistol at the crime scene and denied that Duggan shot the police officer first.
"We have no reason to believe that Mark Duggan shot a policeman. No pistol was found at the scene," said Rachel Surfontine, spokeswoman for the Independent Police Complaints Commission.
But it is obvious that the hooligans themselves have already forgotten about the cause of the unrest - the murder of Mark Duggan.