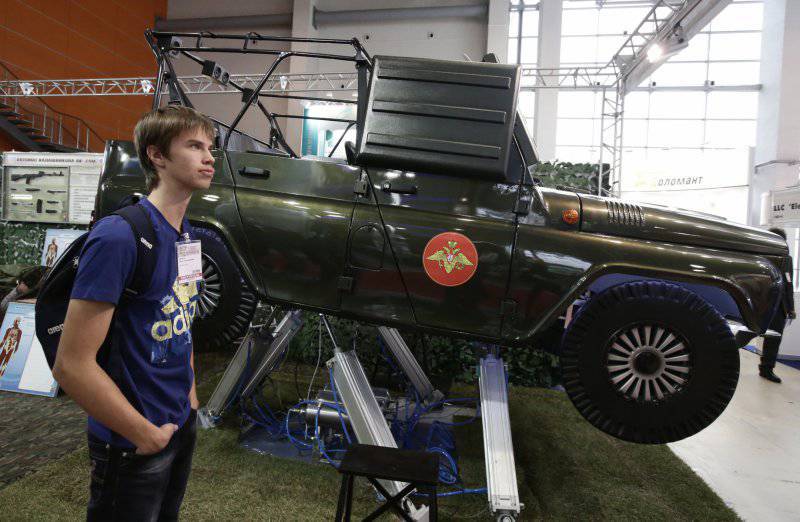 The Russian border may receive a new intruder detection system. "The combined instrument making corporation" a member of the State Corporation Rostec, presents the exhibition "Interpolitex-2014" development of its concern "Vega" - a radar control "Outpost" areas, which is on the technical characteristics superior to existing foreign counterparts.
"Radar" Outpost "- a system of circular view, capable of detecting moving objects at distances of up to 20 kilometers, - the director of the department of" instrument-United Corporation "Alexander Kalinin. "The range resolution, or the minimum distance between two adjacent fixed objects, is 30 centimeters, which is a very good indicator."
Forpost radar is designed to detect ground, surface and low-flying objects and is able to track at least 50 targets simultaneously. The station "Outpost" includes radome, scanning antenna device, receiving-transmitting unit, a digital processing and attendant workstation which is located at the Watch and may be common to several local radar sensors. The system is equipped with a "smart intruder" detection function that allows you to distinguish a person from other moving objects, even if he masks his movements.
"For comparison - the common foreign systems have a maximum range of 6-8 kilometers - says Deputy General Designer of concern" Vega "Victor ivy. - Closest to our indicators for maximum range is now achieved by German inventors. But their range resolution is much worse: not 30 centimeters, but about five meters. If we have 60 thousands of range elements in a beam in one direction, then they have 6-8 thousands, their system cannot cover such an area at the same time. "
"We also implemented adaptive detection algorithms in the system," said Viktor Plyuschev. - When you work with a ground surface, and not with the sky, the picture is complicated by the reflection or background of the earth. It is important that on this background it was possible to distinguish a person well, because the background is rather complicated - there is grass, shrub, and other objects. When snow falls, the characteristics of the background also change. On a circle in 20 kilometers we have 15 millions of points that we have to take and track. Previously, a specialist manually corrected background changes, such as those associated with spring grass growth. An experienced person solved this problem in a few days. Algorithms are now being developed that allow you to do this automatically. "
To date, the Forpost system has passed all tests. The product is assigned the letter O 1-readiness for serial production.