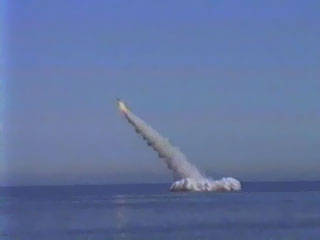 A sea-based strategic missile Liner, whose flight tests began with the successful launch of 20 in May, is capable of carrying from nine to 12 low-power warheads, which exceeds the combat equipment of the Bulava missile, the Makeev State Rocket Center reports.
"A rocket Liner can be equipped in 1,5 - 2 with a large number of warheads of a small power class than a Bulava rocket," the company reported. The Bulava rocket can be equipped with only six warheads of a small power class. "Liner "can be equipped with warheads of different power classes.
"Rocket" Liner "in energy-mass perfection (the ratio of the mass of the combat load of the rocket to its starting mass, reduced to one flight range - ed.) Surpasses all modern solid-fuel strategic missiles of Great Britain, China, Russia, the United States and France, and in combat equipment ( four units of the middle class of power) are not inferior to the four-unit (under the conditions of START-3) American "Trident-2", - underlines the Makeev State Concert Center, informs Interfax.
Thanks to the Sinev and Liner missile systems developed by the Makeyev State Research Center, the northwestern grouping of submarines of the 667BDRM project has existed for 35-40 years, that is, before 2025-2030. "At the same time, the presence of multiple combat equipment will allow us to respond quickly to changing military and political circumstances," the company notes.