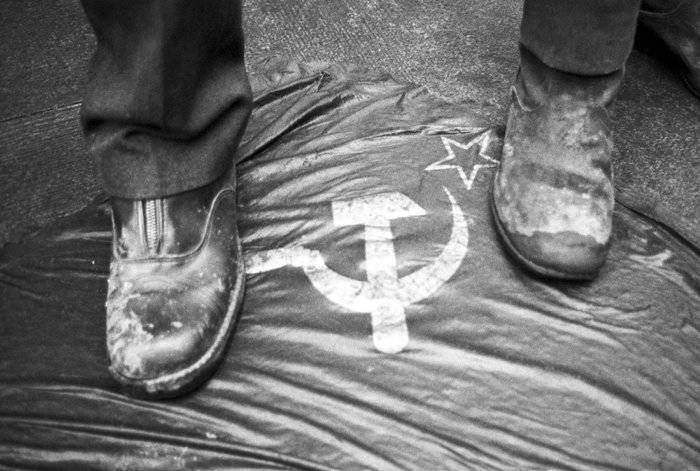 Still, it was not for nothing that I called Vladimir Fedorin an outstanding Russian journalist a few weeks ago - now he holds the primacy in finding one, it seems to me, very important
historical
sensations: transcripts of him, that is, Bush, of telephone conversations with Soviet leaders in the autumn of 1991 were published on an unreadable website of the Presidential Library of George W. Bush. This publication is all the more important because we don't just know nothing about the final period of the history of the Soviet Union, but we know too much superfluous, that is, either a direct lie, or half-truth with retroactive accents.
The modern press lived by some very indecent illusions, and later memoirists from Korzhakov to Gaidar were too passionate about finding excuses for their own actions of that autumn. There is another completely disgraceful source, according to which, I am afraid, many more generations of researchers will form their own idea of ​​the last days of the USSR - the book "In the Politburo of the CPSU Central Committee" several times republished by the Gorbachev, but these records are in many ways (at one time one of the chapters of this book was remarkably dismantled and trampled by our great archivist Kozlov), either heavily edited with hindsight, or simply made up, but sold as genuine creations Levski protocols Gorbachev era; you can not do it this way.
In general, if anyone ever sits down to write his "Red-Brown Wheel" about the collapse of the Soviet Union, it will be incredibly difficult; the only thing that can still be hoped for is that in the Western archives there are still a lot of unpublished treasures like those found by Fedorin.
So, phone conversations of Bush Sr. with Gorbachev, Yeltsin and Kravchuk. First of all, Bush's own role as the supreme arbiter in all Soviet affairs of the past ninety-first year is impressive. Somehow it was not very common for us to pronounce it out loud, but by the time of its dissolution in Belovezhskaya Pushcha, the Soviet Union was a real satellite of the USA, and if Gorbachev somehow managed to prevent the "biggest geopolitical catastrophe", then we may even would have survived to the notorious "NATO bases in Sevastopol," which, however, would not upset anyone; the story is generally a very bizarre thing, it's time to get used to it.
The most uninteresting role in the whole pre-Belovezhskaya intrigue is the role of Kravchuk and Ukraine, and this also strikes: neither Bush, nor Gorbachev, nor Yeltsin recognize any right to subjectivity for Ukraine and do not hide it at all. Ukraine is just a map in the conflict between Yeltsin and Gorbachev. It is not for nothing that Bush speaks before the referendum only with two of them, not with Kravchuk (he will talk with him after — just to congratulate, nothing more).
Yes, Ukraine is about to hold a referendum on independence, the procedure is quite ritual and predictable - the same ritual and predictable as the March referendum on the preservation of the USSR, in which Ukraine, like all the republics loyal to Moscow, voted for the Union. No one doubts about the December referendum - of course, they will vote for independence. But for Gorbachev, and for Yeltsin, Ukrainian independence is only a reason to present Bush his vision of further developments. Gorbachev's version - there's nothing terrible in Ukraine's independence, in the renewed Union all republics will be independent; Gorbachev even refers to the USA — after all, every state is also sovereign, but so what?
Yeltsin from the Ukrainian referendum draws completely opposite conclusions - he insists that the word "independence" should be interpreted on the most radical scale, Ukraine leaves immediately and forever, and without Ukraine there can be no Union. It reads quite clearly: there is no Union, and there is no Gorbachev. Yeltsin is not interested in having Gorbachev, and that's why he doesn't need a union.
The extra arguments by which Gorbachev and Yeltsin each incline Bush to their side are extremely interesting. Both veiled threatened - but each in its own way. Gorbachev removes from the sleeve what we used to call the "Lukyanov Doctrine" (once again I want to breathe, to what extent an inaccurate term - of course, this is Gorbachev's doctrine, his idea and his trump card): if the Union Republic takes the path of separatism, then the Union Republic The center has the right to stimulate pro-Soviet separatism within the republic itself, as in Transdniestria and South Ossetia. It's funny to read it in 2014 - Gorbachev threatens to apply the "doctrine" in the Crimea and Donetsk, but he himself demonstrates the inevitability of his defeat: Gorbachev himself does not have resources for the Crimean and Donetsk separatism, and he tells Bush about some mythical people from Yeltsin's entourage, who are ready to insist on revising the Russian borders (the only such person at that time was Yeltsin's press secretary, Pavel Voshchanov, who in August 1991 of the year timidly spoke on this topic in Nezavisimaya Gazeta; after Belovezhskaya Pushcha Voshch Nova will send in his resignation, and the new "Imperials" in the Kremlin will appear much later).
But the most incredible and the only thing in those transcripts that makes now, reading them, exclaim "well, wow!" - this is Yeltsin's argument. Yeltsin explains to Bush that Russia as a Slavic state without Ukraine will find itself in Gorbachev's Union alone with Muslim states, and for the Slavic state such a state of affairs is unacceptable. It is difficult to keep from swearing epithets; No, I understand that a politician must be a hypocrite and use in the negotiations precisely those arguments that will affect his interlocutor, but there is a limit to everything - to portray a Islamophobe and defender of Slavs (did you ever hear the word "Slavic" in official rhetoric of post-Soviet Russia? at least sometime?) - this is some kind of transcendental, inhuman cynicism, especially given the further fate of the Slavic population in those Muslim countries from which, according to the transcript of the conversation with Bush, Yeltsin wanted to distance himself.
We knew, of course, that the agreement in Belovezhskaya Pushcha and the dissolution of the USSR were aimed at depriving Gorbachev of power, and there were no fundamental historical ideas or, as it was already fashionable to say, geopolitical ideas among the participants of the Belovezhskaya collusion. The transcripts published by the Bush library simply show in detail how exactly our country approached Bialowieza, who had the last word and how it sounded. It is clear that now it does not matter, but still - when someone again tells you that the Soviet Union ruined Gorbachev to hang out beautifully, show him these transcripts. And if Vladimir Putin ever again wants to talk about a "geopolitical catastrophe", let him come to the Novodevichy cemetery, where the real author of this catastrophe lies on the central alley under the white-blue-red boulder.