For the post of head of the Donetsk People's Republic already apply for five candidates. The current head of the DPR, Alexander Zakharchenko, whose attention to the personality of which was heightened by two factors the other day, can be considered a favorite of the election race. The first is the strange media reports that Zakharchenko allegedly resigned, since he sees no reason to hold the position of head of the republic with further concessions regarding Kiev under the Minsk agreements. In reality, it turned out that Zakharchenko did not leave his post.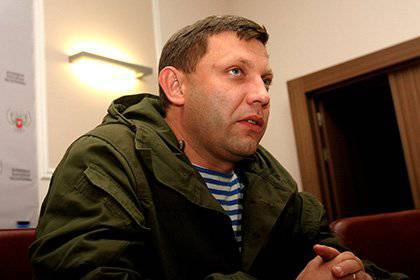 The second factor is the statement of Zakharchenko himself about the fact that if he wins the elections for the head of the DPR, he will make every effort to restore the territory of the republic within the borders of the former Donetsk region of Ukraine. Alexandra Zakharchenko quotes
RIA News
:
In the event of victory, I promise to do everything possible and impossible, to make every effort to ensure that the people in the near future liberate the entire territory of the Donetsk People's Republic, illegally occupied.
Will these efforts be purely political or military? - Zakharchenko did not specify.
At the same time, the acting head of the DPR declared that the authorities of the republic had signed an agreement with Kiev on the line of separation and the withdrawal of heavy equipment from the special dividing line. The village of Peski, from whose territory the Ukrainian security forces attacked Donetsk, under this agreement, according to the head of the DPR, came under the control of the republic.