In the production of the Military Prosecutor of Ukraine is the case (quote)
about undermining the combat readiness of the Ukrainian army
. The Deputy Prosecutor General of Ukraine declares that in this case several Ukrainian defense ministers, including those leading the main military department of Ukraine since 1996, are being held as key defendants. Reports about it
RIA News
.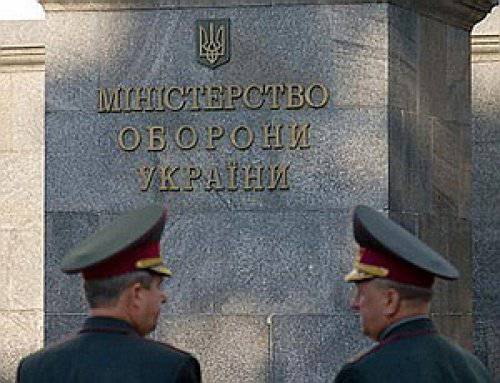 Deputy Prosecutor General of Ukraine calls the names of these defendants. Here is a list of ministers, in the opinion of the Main Military Forces of Ukraine, who undermined the fighting efficiency of the ukroarmia (years in years as the head of the Ministry of Defense of Ukraine are shown in brackets):
Alexander Kuzmuk (1996-2001) and (2004-2005),
Vladimir Shkidchenko (2001-2003),
Evgeny Marchuk (2003-2004),
Anatoly Gritsenko (2005-2007),
Yuriy Yekhanurov (2007-2009),
Michael Yezhel (2010-2012),
Dmitry Salamatin (February 2012-December 2012),
Pavel Lebedev (2012 - February 2014).
Deputy Prosecutor General of Ukraine quoted RIA
News
:
The military prosecutor's office opened criminal proceedings on the fact that persons did not properly execute their official powers - the leadership of the Ministry of Defense of Ukraine and the general staff of the armed forces of Ukraine, who signed the documents, substantiating the submission to the legislative bodies, the cabinet of ministers, which led to there were six brigades (as of spring 2014 of the year), of which four hundred were able to gather.
Judging by the list of defendants, those ministers who led the Ukrainian military department from 1991 to 1996 a year, as well as from February 2014 to the present point in time, strengthened the defenses of Ukraine with all their might ...