Not so long ago (September 26), activists of the so-called automaidan decided to make a gift to the President of Ukraine, Petro Poroshenko, on his birthday. They arrived at his house and painted the entrance and fence in the colors of the Ukrainian flag, saying that Pyotr Alekseevich himself said that it was necessary to propagandize state symbols. In addition, a car tire was brought to the house, which was also painted under the Ukrainian flag, and drove to the entrance.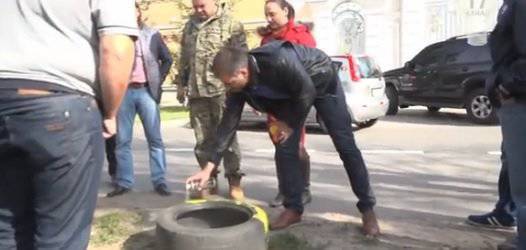 The action was actually held in order to draw the attention of the Ukrainians to the fact that nothing really changed in Ukraine since the beginning of the Poroshenko presidency. As it turned out, not only ordinary Ukrainians paid attention to the action, but also Pyotr Alekseevich himself. According to the Ukrainian journalists who took part in the action, literally in a few days all participants of the "collective congratulation" came to the agenda of the district military commissariats - as reservists who fall under the next wave of "partial" mobilization of the ATO zone.
The words of one of the activists (journalist Aleksey Kutepov) are quoted on Ukrainian TV channel 112:
What happened after that: everyone, absolutely everyone who participated in this event, was even present nearby or on his car, on a company car, absolutely everyone received a message in a different way that tomorrow at 8: 00 in the morning each of these people should arrive at your draft board to be sent to the ATO. (...) The coverage map was - all of Ukraine ...
Petro Poroshenko dislikes congratulations with overtones.