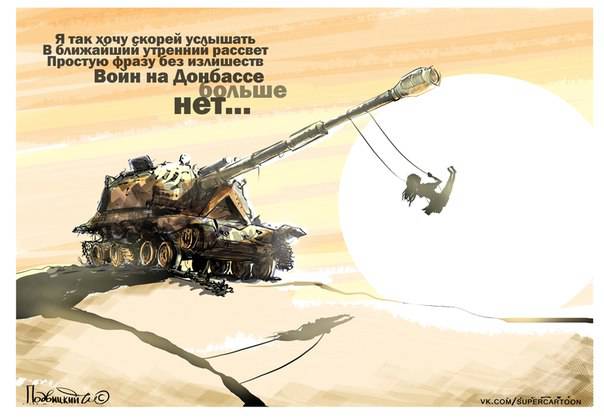 The analysis of recent events confirms the gloomy guesses: the idea of ​​the Great New Russia is actively merging.
If Novorossia is "merged" by turning it into 3 of the year (by the way, what will happen after 3 years? What kind of nonsense is this "special status" for 3 of the year? Greater Transnistria, with the subsequent capture of dissenting activists of the "Right Sector", we will get a large, united and indivisible, Ukraine-hating country with a zombie population and neo-Nazis in power.
This is a country about the size of France, with a large population, with a strong defense industry potential. A country that with pleasure in retaliation of Russia will deploy NATO bases and missile defense systems on its territory. A country that sooner or later, with the support of NATO and the United States, will take up the issue of the Crimea, is obviously a military solution, even if it has no real chance to win.
Do not understand this and hope that the "gas issue" will be able to manage this country, can only be crazy.
The "drain of Novorossiya", the transformation of the destroyed Donbass into Greater Transnistria, which will most likely hang on the neck of the Russian taxpayers, is, excuse me for the jargon, "kidalovo" of its people, who believed in Russia.
It is also a "kidalovo" of the people of Russia, who believed that we "do not abandon ours", which will lead to a great disappointment of the Russians in the decisions taken.
It is also a crime against the interests of the national security of Russia, because it is possible to deploy military bases near Kharkov without NATO, and the United States will do this directly.
If Ukraine remains a united and indivisible state with Galicia in composition, strangling Novorossia, and with a neo-Nazi regime at the head, war with Russia is inevitable in the medium term.
Only New Russia and its army from the inside, without the introduction of Russian troops, can produce the dismantling of the neo-Nazi regime in Ukraine and its denazification.
Obviously, the solution to this problem is at least two problems:
A) Ukrainian army, punitive battalions and PS.
B) Rear and "voentorg".
As for the rear, there are no extra comments, everyone understands everything.
As for the power part of the issue, it is time for New Russia to start playing its own game and stop depending on the puppeteers. It is for them to live in case of defeat under the rule of Kiev (or not to live).
The battle, no matter how difficult it may sound, must go on two fronts. New Russia should gain trumps for negotiations in both capitals - both Kiev and Moscow.
Let me explain my thought: there is an opinion that Novorossia is played and manipulated, either "providing assistance" or recalling it. I can only judge this by
news
feeds and comments.
To play on an equal footing in these games, Novorossia must have its own trump cards. And she potentially has these trumps.
We must not forget that an important part of the Russian defense industry is located in Novorossia - this is Yuzhmash, Motor Sich, Kharkov defense plants, and Nikolaev shipyards.
No matter how our defenders are not ruffled, that they are engaged in import substitution, this process will still take years and will be very expensive, and Yuzhmash can hardly be replaced.
And export contracts for export are "burning." And, undoubtedly, there are penalties, not weak.
And we wanted to build aircraft carriers, but nowhere, except in Nikolaev, there are no opportunities for that yet.
The task in practice is very difficult, but theoretically it sounds like this: for the survival of Novorossia, you need to take control of these cities and their factories by all means.
By controlling these plants, Novorossia can already directly, on equal terms, carry on a dialogue with Moscow, selling components for the defense industry, as they say, here and now.
Also, the pipe will go partially through the territory of New Russia.
Well, let's not forget that the land road to the Russian Crimea passes through the territory of Novorossia. Given the fact that the bridge will be even when, and now there are not enough ferries for the tourist flow, plus construction projects are planned. How are the materials going to deliver, curious?
In general, the New Russia will have something to offer for its part.
These are good maps for the negotiating table on the subject of "Voentorg" work.
Also, taking control of major cities and enterprises
historical
New Russia, the younger sister of Russia will be able not only to conduct a dialogue, but also to dictate its conditions to Kiev.
Trumps on hand - the following.
Energy: all the coal in Ukraine is Donbass and Dnepropetrovsk region. Kiev will not be able to deliver coal bypassing Novorossia, if it controls the ports of Mariupol and Odessa.
Oil and gas of Ukraine - in the Kharkiv region.
Finally, almost the entire industry of Ukraine is the enterprises of Novorossia, which means they are taxes that are being paid to Kiev, and can remain on the ground. Without these taxes, Kiev is completely bankrupt. If Novorossia takes them under control and closes taxes on itself, then Kiev simply will not have money for anything. This means complete control of the country and the Kiev regime.
Plus the trump ace is the highly motivated army of New Russia.
With such trumps in hand, you can dictate your conditions to Kiev: reformatting Ukraine into a confederation of 4 parts - Galicia, Transcarpathia, Central Ukraine (Little Russia) and Novorossia.
Why confederation?
Well, first of all, separation into an unrecognized state is not an option for both residents of Novorossia and for business. Public support is important, but who wants to be in Greater Transnistria?
Secondly, in a confederation format, each of its subjects is a sovereign state with the right of unilateral withdrawal. That is the statehood is made out.
And thirdly, setting a goal of constitutional reform to change the form of government instead of secession, the activists of Novorossia will cease to be separatists and "terrorists."
Well, finally, the confederation is an acceptable compromise with Europe. Since in fact, at least in the first stage, the state remains one, that is, there are no annexations and divisions.
Further - more interesting.
If Novorossia decides not to subsidize Galicia (namely, Western Ukraine is a subsidized region, and Novorossia is a donor), it will most likely use its right to withdraw and reunite with Poland, for example, in the autonomy format. This will be better for both Ukraine and Galicia itself.
Transcarpathia can go to Slovakia, Hungary or Romania, as they themselves decide. The advantage of such a disconnection may be that Ukrainian supporters of euromaidan and especially svidomye citizens could register in Galicia and automatically receive European citizenship.
If they go to Europe, having received European passports, the rest of Ukraine will become a calmer place.
By the way, in a different way in reality, the "descendants of the ancient ukrov" Europeans have no chance of becoming.
New Russia and Little Russia could join the Customs Union and Eurasian Economic Community.
If there is a mutual desire, a confederation with Russia is possible, while the disposition of Novorossia and Little Russia will not be part of Russia, and will not hang on its budget, which is what liberal economists frighten us with.
It is even possible to join the Russian Federation, over time, years through 20, when a generation brought up on normal textbooks will change. That is, a confederation can be reformatted into a federation by mutual desire by concluding an interstate agreement.
The confederation solves almost all problems of Ukraine. This is an opportunity for a legally literate "divorce", and the statehood of New Russia and Little Russia will be legally formalized.
It is necessary to understand that the concept of a unified and pro-Russian Ukraine with Galicia as a part is untenable.
Galicia is another world. The consequences of its influence on the inhabitants of Ukraine, we now see in the Donbas. This is not anti-Galich propaganda, it is a statement of fact. Galicia should return to Europe, from where it was illegally taken to 1939. As well as with the Crimea, this would be a rectification of a historical mistake.
After the separation of Galicia, in one form or another, the 2 / 3 of today's Ukraine will be able to return to the "Russian world". All - nothing at all.
Why all these thoughts out loud? I see the leaders of Novorossia - the Brain, Gubarev - the desire to fix everything, but I do not see a clear, intelligible plan of action. They need to formulate in several points what they want to come to and work with people:
1. Military victory over the Ukrainian army.
2. The liberation of the territory of historical Novorossia.
3. Hard negotiation process with Kiev to reformat Ukraine into a confederation.
4. You can voice the idea of ​​nationalization.
5. The entry of the New Russia and the Ukraine into the Customs Union and Eurasian Economic Community.
New Russia and its patriots time to start playing their game. Salvation of drowning people is the work of drowning people themselves!