Press office
Of the Western Military District announces the successful completion of factory sea trials of the newest landing craft of project 21820 Denis Davydov for the Baltic
fleet
that took place at landfills.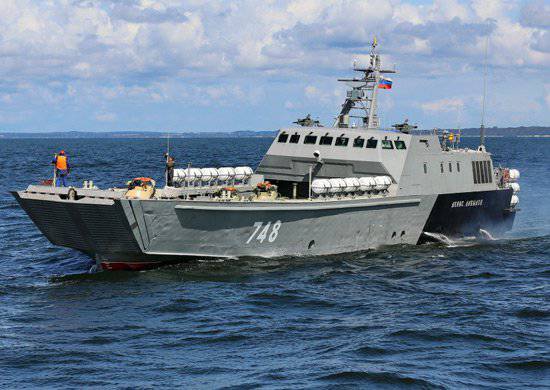 The plant's acceptance team and the crew of the boat conducted speed and maneuverability tests, checked the work of all units, systems and assemblies, radio engineering and navigation aids, and weapons. In addition, they carried out the landing of the wheeled-tracked vehicles on the coast and on the water.
"At the end of September and beginning of October, state trials will begin on the landing boat Denis Davydov, after which it will become part of the Baltic Fleet to perform tasks for its intended purpose," the press service notes.
In addition, factory trials of another 21820 "Lieutenant Rimsky-Korsakov" landing craft are currently under way, and in the middle of October the third boat, "Michman Lermontov", will launch them.
"Landing boats of the 21820 project have unique characteristics and in fact have no analogues in the world. They are intended for high-speed sea transfer and disembarkation to the unequipped coast of military contingents, wheeled and tracked vehicles, "the press service of the Western Military District notes.
The full displacement of boats of the 21820 project is 280 tons, the greatest length is 45 meters, the width is 8.5 meters, and the draft is 1.9 meters. They reach speeds up to 35 nodes. The maximum cruising range is 500 nautical miles.