The Ministry of Internal Affairs of the Russian Federation proposed to amend the military regulations of the guard service, prohibiting the sentry to use a personal mobile phone at the post. When serving, a soldier should not be distracted by calls, text messages, or games. He writes about it
Rossiyskaya Gazeta
.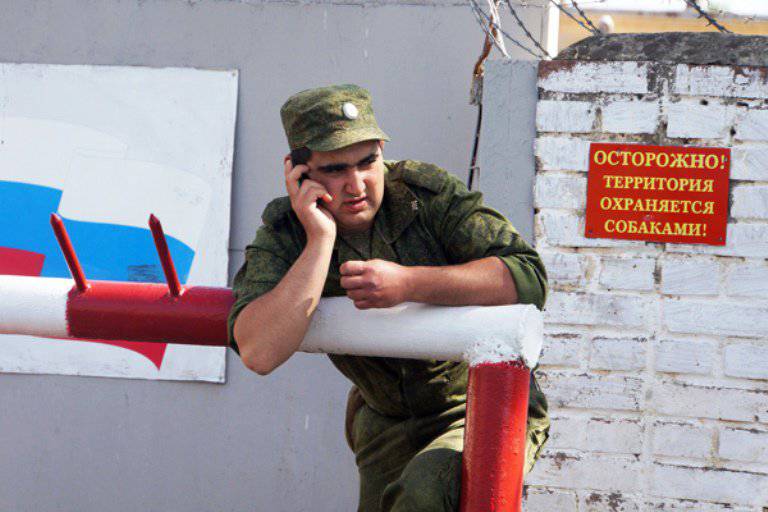 Although the initiator of the project is the Ministry of Internal Affairs, the amendments will apply to all Russian security officials, primarily the Armed Forces.
As it turned out, a soldier with a mobile phone at his post is not at all rare, but rather already routine. Immersed in correspondence or action-shooter, he no longer controls the situation.
"In connection with the proliferation of personal communications and their availability among military personnel, including those serving in the internal troops of the Ministry of Internal Affairs of Russia, it became necessary to regulate their use in the performance of service and combat missions as part of the guard and sentry."
, - stated in the explanatory note to the project.
Personal communication can be not only phones, but also any kind of mobile computers, such as tablets.
Speech about completely banning mobile phones in the army is not. It is possible and necessary to communicate with parents and friends (friends). Yes, and dedovschiny phone helps to fight: when information about the morals of the barracks spreads over the network, wild things become less. Or you can call the military prosecutor.
At the same time, a soldier must clearly understand where the need ends and self-indulgence begins. Need a golden mean. In the meantime, as the newspaper writes, referring to the stories of the servicemen, "in many barracks there is a real struggle between conscript soldiers and commanders: commanders swear and select phones, and soldiers buy new vehicles and hide them in pockets and hiding places, continuing to live from SMS to text messages.