The second Russian humanitarian mission (a humanitarian convoy) again cannot cross the border with Ukraine. KamAZ trucks with two thousand tons of humanitarian aid are located on the territory of the Rostov region - drivers are waiting for the permission of Kiev to move across the border. No such permission yet. Reports about it
LifeNews
with reference to the representative of the Council of Federation, member of the Committee of public support for residents of the south-east of Ukraine.
According to information from the Ministry of Emergency Situations, trucks transport not only food, medicines, sleeping bags, but also means for water purification, as well as mobile diesel power plants.
Initially, it was said that the second humanitarian convoy could go to the Donbass by rail, but decided to use the old option of cargo delivery, namely, KamAZ vehicles.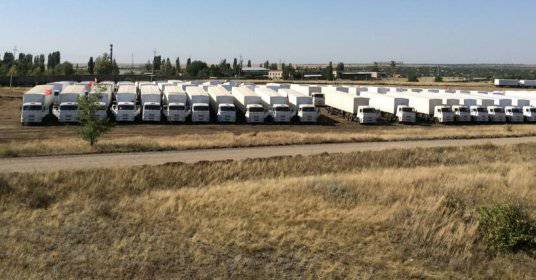 Representatives of the International Committee of the Red Cross, through which talks are being held once again with the Ukrainian side, declare that the Ministry of Foreign Affairs of Ukraine ignores all appeals so far. The Russian side and the ICRC decided to appeal to the Verkhovna Rada.
Apparently, Kiev will pull back with an official response this time, so is there any point in waiting for such a response from the Ukrainian authorities, if their task of helping the residents of the southeast is not included? Lose time again?