If in Russia, Ukrainian refugees are provided with housing and work, and they also allocate places in universities and schools, then for those who decide to stay in Ukraine, everything goes completely differently.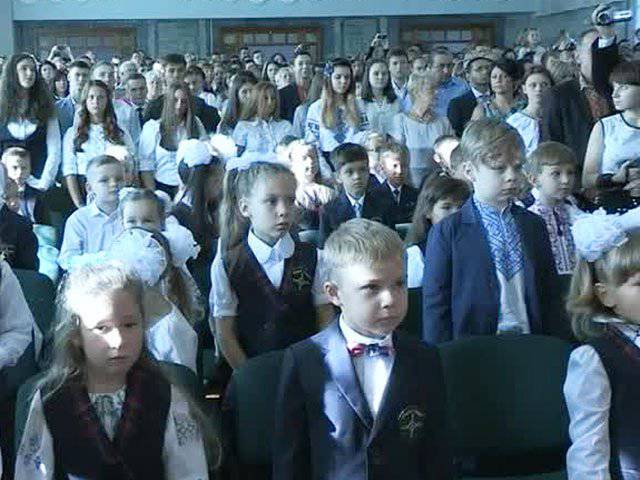 So the Day of Knowledge in Ukraine has become a holiday not for all students. In particular, as noted
"Vesti"
, at the Medical University of Odessa refused to provide places for immigrants from Donetsk.
The administration has gone only to partial concessions - some guys received the status of "temporarily admitted to classes." Students are encouraged to write letters to Kiev or even go to study there. At the same time, no one gives guarantees that in the capital they will be provided with training places and rooms in hostels.
According to young people, they feel homeless and turn to officials without hope of a successful resolution of the problem.
"I came looking for an answer. I was not told anything. I left - I have no place to stay here, "said one of them.
The conflict in the Donbas has not bypassed students. So in one of the Kiev schools, children from Donbass had to listen to threats and abuse from their peers.
"In my child's school, tensions between classmates have already begun. Someone said that they were for Russia, and they drew flags of Russia, others - flags of Ukraine. The director came and said: "Everyone who wants to go to Russia, take the tickets and leave," said Oksana Belokon.
RIA
"News"
notes that the Kiev authorities are also trying to influence the teachers who remained on the territory controlled by the militia. In particular, those who came to work were threatened with prison sentences from 8 to 12 years.
"There was an order from Ukraine, which indicated that criminal liability would be applied for cooperation with the Donetsk People's Republic, imposing a sentence of eight to 12 years," said Igor Kostenok, head of the Ministry of Education and Science of the DPR. - It is not known under what legislation the authorities of the neighboring state act, but many heads of our educational institutions apply to us with this particular "document". Of course, measures will be taken. "