During the fierce fighting in the city Lutugino militia fighters were able to destroy several columns of heavy armor Ukrainian security officials. Special correspondent visited the scene
LifeNews
.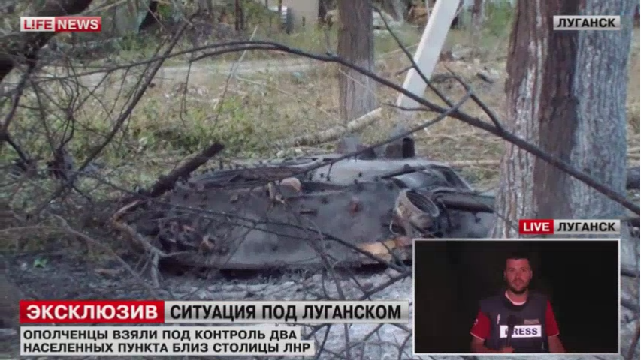 "Even such heavy armored vehicles were completely destroyed. Towers
tanks
it was tearing away and dropping some tens of meters from the caterpillar base. As a result of the fighting, many residential buildings were damaged, the burned skeletons of burnt military vehicles and trucks were on the streets, "he said.
Besides Lutugino, a population of about 18 thousand people, the militia released Georgievka village, which lies on the line of Lugansk environment. In addition, it was released settlements gravelly, Novosvitlivka and Novoannovka.
Difficult situation in the south, but, as noted by the militia, south of LC also managed to almost completely clear out the enemy forces. One of the main events of the last days, according to them, is the successful attack on the Lugansk airport.
Correspondents visited the site of the assault
LifeNews
, who reported that from the terminal building there was only a wreck.
"Ukrainian National Guard under the airport held for three months and during this time has created a serious strengthening. To stay there natsgvardeytsam joined the remnants of "Aydar" battalion, retreating from gravelly and Novosvitlivka "- said the reporter.
Clashes continued in the airport area in June, he several times passed from the Ukrainian security forces to militias and back. Now the army of LC was able to completely block the territory of the terminal. According to various sources, there were up to from the 500 2000 Ukrainian servicemen.