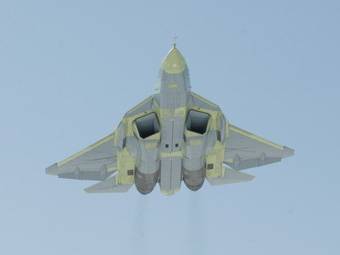 The Russian company Sukhoi announced its intention to offer a promising T-50 fighter (PAK FA) to the tender for the South Korean Air Force, according to The Korea Times. The tender, announced at the beginning of 2011, is being carried out as part of the third phase of the South Korean FX Air Force Modernization Program. According to the newspaper, Sukhoi will apply for participation in the Korean tender at the end of 2011. The South Korean Military Procurement Office (DAPA) is expected to announce the tender winner in October 2012 of the year.
Earlier, DAPA announced that it has simplified the conditions for participation in the FX III tender so that it can accept as many participants as possible. As part of the competition, the South Korean Air Force plans to acquire 60 fighter aircraft for a total of 8,29 trillion won (7,9 billion dollars). American companies Boeing and Lockheed Martin and the European consortium Eurofighter are already taking part in the tender. They offered the F-15 Silent Eagle, F-35 Lightning II and Typhoon fighters to the competition, respectively.
According to the South Korean agency "Renhap", DAPA has already made a short list of candidates to win the tender FX III. It includes F-15SE, F-35, Typhoon and T-50. What other aircraft were submitted to the competition, not specified. Meanwhile, according to The Korea Times, the PAK FA and Typhoon have virtually no chance of winning the fighter tender, since the political aspect will play a significant role in choosing the aircraft - South Korea has long been an ally of the United States, with which the country has established a strong military technical cooperation.
The Russian side has not officially confirmed its intention to take part in the South Korean tender. At the end of 2010, Russia signed a contract with India for the joint development of the fifth-generation FGFA fighter, which will be based on the T-50. FGFA will be armed with the Indian Air Force. In addition, both sides intend to supply the fighter for export.