In the city of Zelenodolsk (Republic of Tatarstan) the other day, the laying of the next (eighth in a row) ship of project 21631 took place. The ceremony of laying the ship, held at the Gorky Zelenodolsk plant, was attended by the Commander-in-Chief of the Russian Navy Viktor Chirkov, Commander of the Black Sea Fleet Alexander Vitko, Commander of the Caspian
flotilla
Ildar Akhmerov, representatives of the leadership of Tatarstan and the Zelenodolsk plant directly, as well as the head of Ingushetia, Yunus-Bek Evkurov. It is reported
official site
OAO Zelenodolsk Plant named after A.M. Gorky.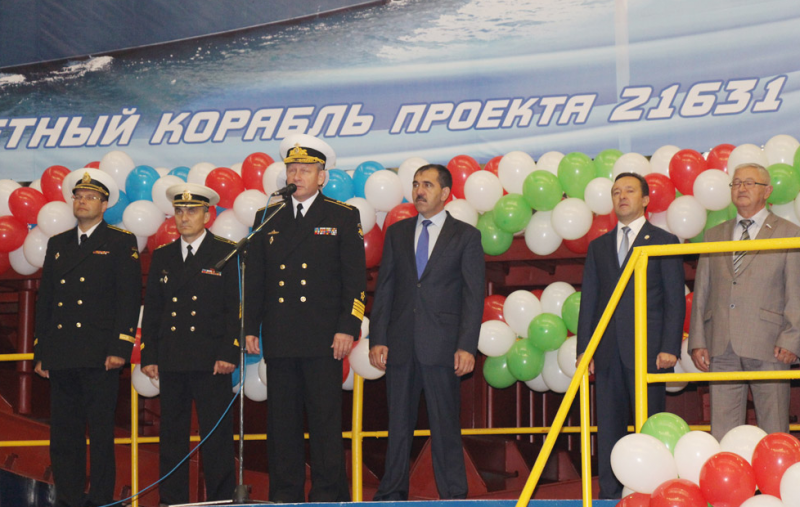 The presence of the head of the Republic of Ingushetia at the groundbreaking ceremony for a small rocket ship is explained by the fact that the ship of the 21631 project will be named Ingushetia. This IRC will replenish the Black Sea Fleet of the Russian Federation.
At the moment, one of the ships of the same project (Veliky Ustyug) is being tested in the Caspian Sea. Two such ships (Grad Sviyazhsk and Uglich) are already serving in the Caspian Flotilla. The Zelenodolsk enterprise is building more 4-x small rocket ships of the 21631 project. These are "Serpukhov", "Vyshniy Volochek", "Orekhovo-Zuyevo", and also "Green Dol", named after the place where its construction is going.
The ISCs of the 21631 project are universal ships of the "river-sea" class. Displacement of the ship 949 tons, crew up to 36 people (in certain versions - up to 52). Autonomy - 10 days. Rocket armament of the ship is presented in the following form: 1 × 8 "Caliber" or "Onyx", 2 PU 3М47-01 "Bending" with the Igr "Igla" ("Needle-M").