Ukraine came close to a real energy catastrophe because of the war in the Donbas. A sharp drop in coal production, which serves as a source of fuel for a large number of power plants, will lead to a shortage of electricity not only in Donetsk and Lugansk, but also in many other regions of the country.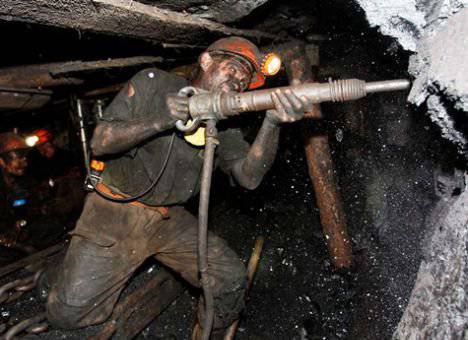 Already in July, coal production fell by almost 22% compared to the same period last year. For 7 months, mines on the territory of the Donetsk region were able to produce only 20.2 million tons of coal, Lugansk mine - 14 million tons. Namely, in these regions 80% of all Ukrainian coal mines are concentrated. Local coal is supplied to the largest TPPs providing 40% of the country's energy needs.
"In Donetsk, all the mines are. Under current conditions it is impossible to work. The coal industry of Donbass is simply being killed, there is no power supply, mines are being heated, "the newspaper quoted the words of the chairman of the Donetsk Independent Trade Union of Miners Mikhail Krylov.
"Sight"
.
Two days ago, the supply of electricity to one of the largest mines, Komsomolets Donbassa, located in Kirovsk, which mined 4 million tons of coal annually, stopped.
"The mines are working chaotically: they stop or resume mining, depending on the electricity supply and the proximity of military operations," notes the head of the Ukrainian Independent Trade Union of Miners, Mikhail Volynets.
During the fighting, it is not only the mines that stop, but the fuel power plants themselves are also being destroyed, providing Ukrainians with electricity. The whole territory of Ukraine can plunge into darkness, and already in the near future.