Once again, a monument to Soviet soldiers-liberators in Bulgaria was desecrated by vandals. And this time the monument, located in Sofia, was filled with paint. Reports about it
ITAR-TASS
.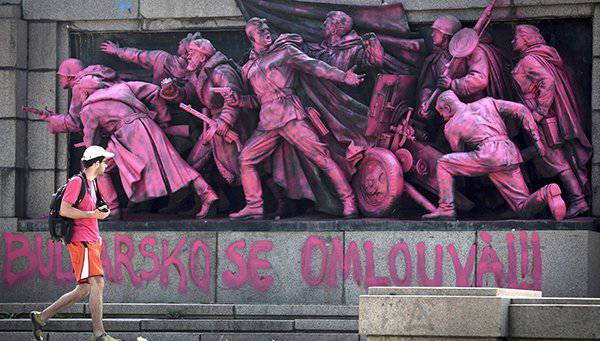 On the Russian site
Ministry of Foreign Affairs
a message appeared in which outrage is expressed by another act of vandalism in relation to the monuments of the Second World War in Bulgaria. The message says:
Deeply outraged by the desecration on the night of 18 in August by unknown vandals of the monument - the burial of Soviet soldiers-liberators in the Sofia quarter "Lozenets". The sculptural composition of the monument and the wall with the names of the dead warriors in several places were covered with red paint. In connection with the outrageous act of vandalism that took place, a protest note was immediately sent to the Foreign Ministry of Bulgaria demanding that measures be taken to prevent such incidents from now on, to bring to justice those responsible for illegal actions and to bring the monument to the grave in order.
This is not the first case of the desecration of the Sofia monument. And earlier, vandals poured paint on the monument, then repainting it in the colors of the flag of the "guild" of homosexuals, then in the colors of the downs movement, which, ironically, coincide with the colors of the Ukrainian flag.
Residents of Sofia themselves express outrage at the actions of the vandals. According to one of the local residents, expressed on the social network, representatives of ultra-radical groups desecrate the monument, who are actually encouraged by local authorities, who are trying to show distance from Russia.