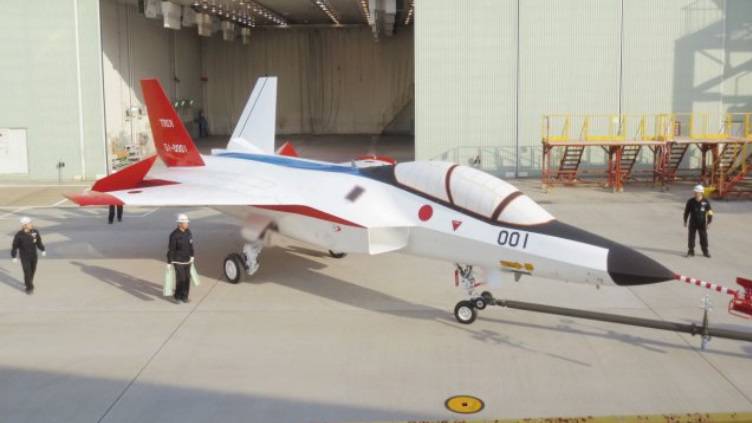 Official sources refused to confirm the date of the test flight ATD-X.
The Technical Research and Development Institute of the Ministry of Defense of Japan (TRDI) and Mitsubishi Heavy Industries (MHI) have denied
news
about the ATD-X (Advanced Technology Demonstrator - X) prototype being tested in the 2015 year.
12 August, Mainichi Shimbun reported that MHI decided to conduct a test flight of the new ATD-X fighter, which was to replace the F-2 Japanese air defense forces in January. Sources of information in the newspaper did not indicate.
The newspaper also reported that the Ministry of Defense will make a final decision on the start of production of the fighter in the 2018 fiscal year, after assessing the combat capabilities of the aircraft and its cost. It was also said that MHI will provide the Defense Ministry with a working prototype at the end of March 2015.
Similarly, JijiPress 12 of August announced plans for MHI to conduct a test flight of an airplane as early as January, indicating official government press services as the source.
However, a spokesman for TRDI refuted both statements in an interview with HISJane's, saying: "We have not yet decided when the first test flight of the ATD-X will be conducted."
MHI spokeswoman: "We have not made such statements. We will make a decision on the first test flight, after consulting with the Ministry of Defense. "
In April, Japanese Defense Minister Itunori Onodera confirmed the Defense Ministry's plans for ATD-X's first flight this year, adding that the ministry decides whether to produce future invisible airplanes on its own or with the support of international developers for the 2018 fiscal year as technological advances and effective cost.
The ATD-X, also known as the Shinshin (Spirit of the Heart), was developed at the MHI factory near Komaki Minami in Nagoya. The aircraft was designed as a stealth fighter with improved maneuverability. The Defense Ministry will use it to research advanced technologies and integration systems, after which it is planned to manufacture fighters of the "sixth generation", built on the principle of i3 (informed, intelligent, instantaneous - informed, intelligent, lightning-fast), as well as taking into account modern systems to counteract unobtrusive targets.
TRDI 12 August published four photos of ATD-X, taken on 8 May. Some of the images were veiled landing gears and exhaust connectors.