Here, in the Crimea, even tanks do not need to enter - Dzhemilev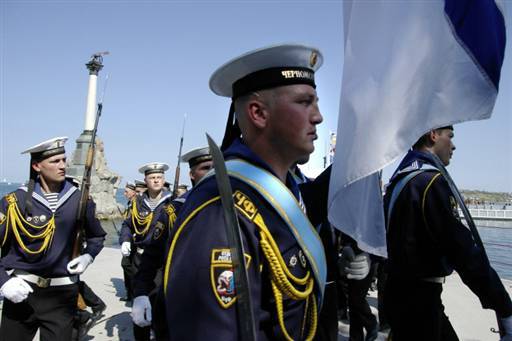 We believe that the extension of the stay of the Russian Black Sea Fleet in the Crimea is really harmful both for the interests of Ukraine and for the interests of the Crimean Tatar people. This was announced in an exclusive interview for ZAXID.NET by the chairman of the Crimean Mejlis Mustafa Dzhemilev (the text is in Russian here)
He said: "To give consent for the stay of the fleet of a country that has territorial claims, and when there are such significant forces that seek to reject the Crimea, at least it is unwise. Secondly, it is not in the interests of stability on the territory of the peninsula, since the stay of the Black Sea the fleet is inspired by separatist forces. They openly say: "As long as there is the Black Sea Fleet, Ukraine will not do anything to us, we will do what we want."
"In addition, if we take into account what happened in 2008 year - the Russian-Georgian war, where Russian passports were distributed to citizens of Georgia, Abkhazians and Ossetians, and then with tanks rushed to protect them, here, in the Crimea, even tanks would enter There is no need for 23 thousand military units, this is enough on the scale of the Crimea, "the leader of the Mejlis noted with concern.
"Therefore, we made a sharp statement that this is a betrayal of Ukraine's national interests, that this agreement should be denounced. Of course, we understand that Ukraine's economy is tied to Russia, there is a gas problem, but economic problems are not resolved by such territorial concessions. When In the Baltics, there was blackmail, which would block gas, electricity, they began to quietly prepare their own stoves, firewood, they said: "We will do without your gas, without your electricity, we want to be independent." And then for what discount we went to concessions dangerous for the country. If the worst option arises, the advantages that we received or did not receive in the form of this insignificant discount on the price of gas will turn out to be such a trifle ... "- said Mustafa Dzhemilev.
And he added: "I think the Kiev elite have already begun to understand that they have gone overboard a bit with those Kharkov agreements. And I hope that at least on this basis they will understand the significance of the Crimean Tatar factor in the Crimea."
Ctrl Enter
Noticed a mistake Highlight text and press. Ctrl + Enter