I would like to continue the discussion on the upbringing of the younger generation, begun in the publications "For those who go to museums" (http://topwar.ru/56069-dlya-teh-kto-hodit-v-muzei.html) and "Kvadrat- nesting generation. What grew up "(http://topwar.ru/56167-kvadratno-gnezdovoe-pokolenie-vyroslo-to-chto-vyrastili.html). This is about the continuity of generations ... I also found the article in the world wide web, I laid it out in the hope that it would also be published, like the previous two. Changed nothing. I do not know how anyone, but I was hooked.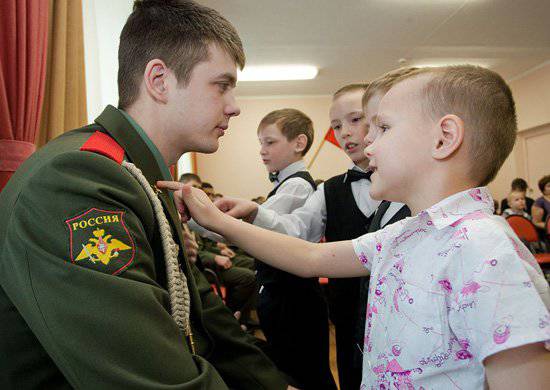 I came to work early, at six, in time to prepare the project documentation in time. Terms, as often happens, were burning. An hour later, our director, Oleg Sergeevich, looked into my office. I knew he was a former military man. It was rumored that he served almost in the special forces of the GRU and has a glorious military past. This is probably the best boss in my entire career. He knows how to completely trust his colleagues and at the same time keep under control all the processes in the company. Well knows each employee, his biography, strengths and weaknesses. Oleg Sergeevich came to work early, to seven, but he never lingered; he ran away to take his grandson from kindergarten.
- Are you here? I thought today you will be in the office only in the afternoon. - The CEO raised his eyebrows in surprise.
- Why in the second? Negotiations were yesterday, Tetrapak finally made the decision. It is necessary today to arrange everything and send for approval.
- It's good. But today is the first of September.
- I know. Terms are too tight, as always, but ...
- Lord with this Tetrapak. I'm not talking about them. You have a son 7 years? Today goes to the first class?
- Yes, the wife will take. If we do not approve the concept this week, the launch of the line will be delayed until October ...
- Vadim, you are a very strong specialist, but your inability to prioritize kills ... - Oleg Sergeevich sighed with disappointment.
- Did not understand you.
The General sat on a chair.
- Close your laptop, get distracted. I'll tell you something.
I shut the laptop. Oleg Sergeevich began to tell ...
Victor came to us in July. Junior lieutenant with excellent combat training, with experience in hot spots. Open, direct, calm. When communicating, I always looked into my eyes.
A little more than a month passed, and my platoon was sent on a business trip. This August voyage was one of the hottest for my entire service. In one of the clashes, Victor was killed. He, a sniper, in the campaign always kept away from the main squad. When we were ambushed, he covered us. We were able to leave, but Victor fell behind and could not get out. He has a wife and a seven-year-old son.
Upon returning home, I called the widow, tried to support, offered any help. She was very worried about her son. The boy was very upset, took off from the wall a photograph of his father in a mourning frame, put him in his room, closed one for a long time.
What can be done in this situation? How to help? After a couple of days, one idea came to mind. Crazy, but it was not better. I gathered a platoon and asked to give half a day to the son of the deceased comrade. As I expected, no one refused. But the most amazing thing started later. Soldiers and officers from the whole unit began to approach me, asking for permission to participate in the planned event. It was already unexpected.
On the first of September, in the courtyard of one of the city schools, several dozen excited first-graders in smart, elegant costumes stood in the line and listened to the principal's speech about a new stage in their lives. Parents of newly minted schoolchildren stood on the sidelines, tenderly watching.
The director finished the main speech with the phrase:
- Friends! Today we have one special student. His friends came to congratulate his father.
Because of the building, a hundred military men in full uniform came out in a uniform box, chasing a step so that the echo could be heard for several blocks. We stopped in front of the stunned first-graders. I, as head of the procession, said:
- Congratulations to Selivanov Mikhail Viktorovich and his comrades on starting school!
- Hooray! Hooray! Hooray! - responded system.
I went up to Victor's son, handed him two shoulder straps and said:
- This is your father. Keep them safe. And always know that you can count on us in any situation.
The boy stretched out along the line and kept strictly, not paying attention to large tears flowing down his cheeks. He took the shoulder straps and inadvertently replied in a trembling voice:
- Yes sir! That is ... understood you! ..
The general rose from his chair and asked:
- What time ruler?
- At nine. - My voice treacherously faltered.
- You still have time. And Tetrapak will wait ...