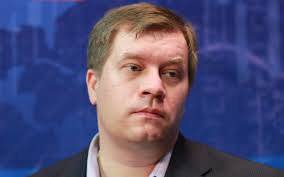 "Square" to be difficult and painful way out of the crisis
The current political situation in Ukraine was commented on by well-known political scientist Pavel Svyatenkov.
Kiev strengthens its power with the help of Russophobia and nationalism
- FROM
historical
From the point of view, Ukraine is going through a very similar period that Georgia and Moldova had in the early 1990s. It was a crisis connected with the collapse of the economy, the rise of radical nationalism and extreme Russophobia, when the Russians were declared "subhuman," cattle and cattle. In particular, such behavior was characteristic of the so-called Georgian intelligentsia, which the Soviet regime had brought up on its own head.
In these countries, there was harsh anti-Russian rhetoric, accompanied by attempts to create a dictatorship. If we talk about Georgia, then there was a desire to create a kind of mini-empire. Let us recall how Tbilisi threatened to adopt force when the autonomies of South Ossetia and Abkhazia asked to expand their rights.
A similar situation exists in Ukraine. We see absolute ideological blindness, a refusal to consider Russians as brothers. For example, a huge resonance was caused by a movie where a Ukrainian girl reads a poem with similar content. It is important not who composed this rhyme (there are always fringe and fools), but the fact that this video corresponds to the deepest aspirations of a part of Ukrainians. In the behavior of Kiev can be traced hysterical Russophobia and anti-Russian policy. We are also witnessing a civil war that is being waged by extremely cruel methods. At the same time, the Ukrainian authorities refuse to consider the citizens of the South-East to be people and to recognize their right to be Russian.
Kiev is not even "embarrassed" to use in large quantities military equipment when suppressing protests. In this case, Ukraine is experiencing a "state heart attack" disguised as a revolution. This is a very difficult crisis, from which Ukraine will slowly and difficultly emerge.
The philosophy of Nazi Germany flourishes in Ukraine
In Ukraine, a group of people proclaimed themselves "superhumans", and she considers other citizens to be slaves and cattle. Now there is a flourishing philosophy that prevailed in Nazi Germany. She can be treated in only one way - a bullet in the forehead to the one who shares it. Then maybe the rest will come to their senses. In the Southeast, there is a war of annihilation, and as long as Kiev politicians do not cease to consider themselves slave owners, the situation will not change.
If we turn to the experience of Georgia and Moldova, it is clear that civil wars led to the collapse of the authoritarian regimes of Gamsakhurdia and Snegur. The pseudo-communist regimes of Shevardnadze and Voronin, which stabilized the backwardness of their countries after the end of the civil wars, arose on their ruins. If Ukraine has a chance to get out of the crisis, it will be a difficult and painful path. He will not be covered with roses, even when the European Union provides Kiev with money, technology and the opportunity to export its goods to its market.
In order for the Ukrainian economy to catch up with the European level, decades are needed. Romania, Bulgaria and Poland still lag far behind other EU members. They are developing well, but it takes years before they reach the average level of development. Now in Germany, per capita GDP is about 40 000 dollars, and in Ukraine - about 4000 dollars.
The consolidation of the political elite in Ukraine is momentary
Now there is no split in the political elite of Ukraine. Politicians are unanimous in conducting a punitive operation against Donetsk and Lugansk and lie as much as possible. The elite also has common goals regarding the forthcoming large-scale privatization, which Yatsenyuk has already announced. They are terribly united by the desire to razderbanit the remaining pieces of Soviet property. As the cat Matroskin said: "Joint work for my benefit - it unites." The oligarchs, who seized power, divide the assets of the defeated "colleagues". At present, all this "fraternity" is united, but its unity will depend on military successes and economic situation.
While the summer and the heat, they don't think much about gas in Ukraine, although the price for it is growing. And what will happen when the cold comes? Meanwhile, Kiev's relations with Russia are badly damaged, our territory is constantly under fire, Russians are being killed in the South-East. All this is happening, despite Putin's warning that he will defend the Russians. I believe that the current consolidation is immediate. In the event of a defeat, the oligarchs will begin to squabble among themselves. There may also be a new Maidan, which is already beginning to talk.