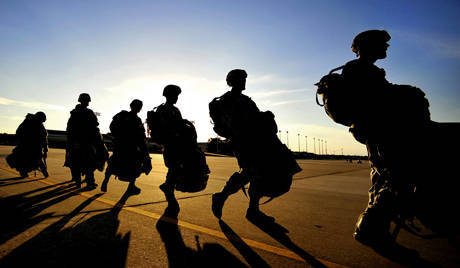 President Obama said Wednesday that he is confident that the Government of Afghanistan will fulfill all its commitments to establish peace in the region. In this regard, the American president does not see the need to find the US military continent on the territory of this state. According to Obama, the withdrawal of US troops will begin in July this year.
At the same time, Barack Obama indicated that the withdrawal of the troops would take place according to plans, but subject to the conditions provided by the Afghan government. In the event of the danger of a new outbreak of hostilities by the Taliban, the US authorities reserve the right to suspend the withdrawal of troops for an unlimited time.
In response to this statement by the president, Senator John McCain argues that to date the US troops in Afghanistan have achieved some success, but the victories achieved must be kept and any plans for the withdrawal of troops should be "modest." McCain argues that the withdrawal of troops may adversely affect the development of the situation in the future. "Today we keep the monster under control, but the withdrawal of troops can provide a salutary ground for the development of extremism in Afghanistan," said John McCain.
But against this background, other information is striking, in which it is indicated that the American legislators, after lengthy debates, considered the assistance that is being provided to Afghanistan at the expense of the US budget funds to be ineffective.
The report, on which the Senate Foreign Affairs Committee has been working for two years, states that 18,8 billions of dollars in aid "did not lead to the creation of independent state institutions in the Arab state, but only developed the habit of dependency among the local people."
Many experts believe that the withdrawal of their troops from Afghanistan by the Americans will lead to a surge in drug trafficking, which is one of the main sources of income for the Taliban. This will undoubtedly be a difficult test for the whole world, but most of all Russia may suffer from this, which, even in today's tough conditions of control over the Taliban, suffers from an uninterrupted flow of narcotic drugs.
Today, the situation in Afghanistan reminds 1989 of the year when the USSR pulled its troops out of the state, and thus Muslim extremists had a real opportunity to take power into their own hands. The USSR left its bases and special centers, which the Taliban took advantage of in their own interests. Now, after a decade's stay in Afghanistan, the United States leaves an established military infrastructure, which may well be used by militants to their advantage. In fact, with the withdrawal of American troops in the world, there is a real threat of creating another extremist state, which, along with North Korea and Iran, will keep everyone in fear.
The USSR and the USA created a real monster, control over which was maintained for years of military presence, but everyone remembers perfectly what happened in Afghanistan after 1989, and you can be sure that this situation will happen again with the departure of the last American soldier, but with what scale unknown