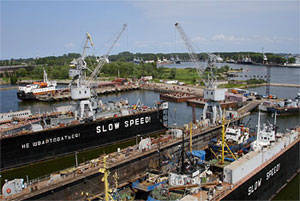 "33-y Ship Repair Plant" (33 SRZ) in Baltiysk, which has been in financial difficulties for a long time, is preparing for the modernization of production facilities. A tender for the development of the conceptual project "Reconstruction of production workshops and the creation of lifting devices for modern large surface ships" is posted on the public procurement website. The customer is the United Shipbuilding Corporation (USC OJSC).
The planned works will include the completion of workshops, reconstruction of the quay walls and piers, dredging throughout the plant, and the dismantling of hydro-protective structures (breakwater) to ensure the ships enter the inner harbor of the enterprise. In addition, it is planned to carry out technical re-equipment of individual factory sections, including for the repair of ships with hulls made of composite materials. The plant will also receive a float with a lifting capacity of 9000 tons and two tugboats. It should be noted that to stop work on the "33 SRZ" at the time of reconstruction is not expected.
The aim of re-equipment of production is the ability to perform all types of repair and modernization of combat surface ships, special and auxiliary vessels, as well as diesel-electric submarines.
The start of work on "33 SRZ" is scheduled for 2015 year. The measures for technical re-equipment and modernization are carried out within the framework of the federal target program for the development of the defense-industrial complex of the Russian Federation before 2020.
According to the official site "33 SRZ", the company currently has two autonomous floating docks with a lifting capacity of 4500 tons, allowing ships and vessels up to 125 meters in length, portal cranes with a loading capacity of 32 tons, and equipped with berths with a total length of more than one and a half kilometers. and depth to 8 meters.
OAO 33rd Ship Repair Plant carries out activities to repair both warships and auxiliary vessels of the Baltic Fleet, as well as civil
fleet
since 1945. The company employs about 600 people. In addition to the main activities of ship repair, the plant supplies thermal energy for the needs of the city of Baltiysk. It is part of the United Shipbuilding Corporation.