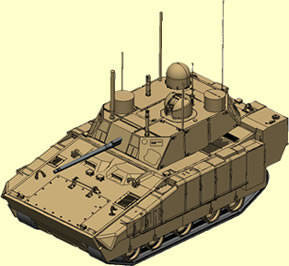 The system closely admits a rocket grenade or other means of destruction, and then destroys it, preventing detonation.
A feature of the technology that Artis is testing is the location of the opposing installation on the roof of an armored car or army truck around its perimeter.
How exactly the system with the speaking name Iron Curtain ("Iron Curtain") destroys the enemy projectile, is not specified. The description says that at first the radar tracks its trajectory, then, when the projectile is ten centimeters in length, the optical sensors recognize it, and then "the necessary countermeasure is selected." As a result, the warhead burns, not having time to detonate.
Since the "countermeasure" acts from the top down and close to the protected object, those who are close to it do not receive damage.
The developers claim that the advantages of Iron Curtain are the ability to provide all-round defense, low weight, ease of placement, multiply charged, the minimum level of false positives and low cost. According to them, all these advantages were confirmed during field trials, for which $ 5 million was spent.
It is expected that the system will be fully ready for commercial production at the end of next year.