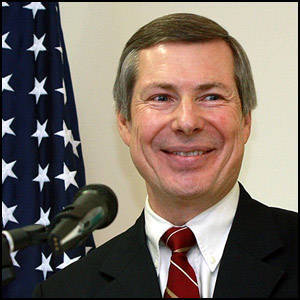 The secret report of the American ambassador to Bulgaria accidentally leaked to the press. And there it is quite accidentally written what we know well. Those who are not familiar with the real face of the Democrats will be very interesting ...
The secret report of the American ambassador leaked to the press!
The secret report of the US Ambassador to Bulgaria, James Warlick, addressed to President Obama has leaked to the Bulgarian press, causing a diplomatic scandal. The ambassador is expected to be recalled due to incompetence, along with his wife, who is the ambassador to neighboring Serbia.
Here is this shocking text ...
"Mr. President, I am pleased to state that the tasks that were assigned to me in this country have been practically accomplished. The new government, headed by the prime minister, happily accepted our proposals for deploying parts of the planned missile defense system, especially after they received substantial sums of money into their accounts. We are especially assisted by the head of the Atlantic Club, Mr. Solomon Passy, ​​who worked for our interests and was able to quickly navigate in the new political conditions.
After the deployment of four American bases in stress points with a mixed population, we will be able to use them, if necessary, in the event that our Bulgarian friends stop being obedient after the victory of our business. This victory seems to be a permit for the construction of a plant of Genetically Modified Organisms, which will enter into force in five years, for which they are also well paid.
We achieved this unexpectedly quick strategic success because of their greed, and I think that our plan to deploy an anti-missile shield in Bulgaria will be implemented in the coming 2-3 of the year. In fact, it is possible that this quick success is explained not only by money, but also by the fact that the new prime minister believes in our
stories
but in the latter case it is even better for us.
Our goal of defeating this traditionally Russian fortress in the Balkans, and, at the same time, utilizing the created instability in this region to destabilize United Europe, has almost been achieved. As far as I know, the Russians have already asked the Serbs to deploy a Russian military base on their territory, which is almost accepted, and if this happens, the path to a united and stable Europe will be closed for an indefinite time.
In Bulgaria, there are signals throughout Russia that the South Stream project will bypass the country, but I calmed down, and I advised the Prime Minister to focus on the issue of accelerating the Nabucco project with our European partners, as he ensures our unconditional support
The chances of a possible military conflict in the Balkans, as expected, in this country continue to be almost zero, taking into account our agreement with our permanent partner Turkey, which promised to be able to take care of its ethnic minorities in the event of a threat, but I told my wife that such promises are made to the Serbian government of Russia, which would mean that Bulgaria would be divided between the two countries.
All this, however, would not have been possible if it were not for our long-standing policy of "brain drain" from this region, and active support for the dissolution of their educational system. Currently, most of the country's population is illiterate, and those who still have an education are forced to live on the brink of survival, and therefore, they have no time to think about more global things ... "
After the publication of this article, it, as expected, was declared a fake.
To divert attention from this scandal, Bulgarian Prime Minister Boyko Borisov gave an interview to journalists about other articles that appeared in WikiLix about him, where Borisov's past was raised, in particular, that for many years he had been engaged in crime and extortion in Bulgaria.
Of course, any document can be challenged and declared fake. However, it is much more difficult to dispute the facts ...