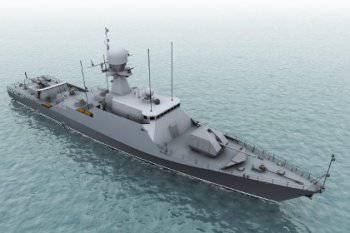 According to the
lenta.ru
, The United Shipbuilding Corporation responded to a request from the Ministry of Defense of Kazakhstan, which plans to purchase ships for the naval forces in the Caspian Sea, by proposing to the Kazakh side small artillery ships of the 21632 Tornado project.
Tornado ships for the Kazakh Navy can be equipped with Grad-M A-215 multiple launch rocket systems, Uran-E or Yakhont anti-ship missiles, Gibka anti-aircraft missile systems, and 14.5 mm machine guns and artillery 100 caliber settings mm.
It is noted that the Ministry of Defense of Kazakhstan should decide on the purchase of "Tornado" in the near future. The representative of the Kazakh Navy, Captain Zhandarbek Zhanzakov, also reported on negotiations with seven foreign enterprises.
The companies offered thousands of tons of displacement from 500 to 1.7 to the military of Kazakhstan, equipped with various sets of weapons. Along with the USC, the Ministry of Defense of Kazakhstan is considering proposals from the Chinese company Poly Technologies, the Turkish Istanbul Naval Shipyard Command, the South Korean STX, the German Lurssen and the Dutch Damen Shipyard.
It is worth noting that 25 of May 2014 was signed a memorandum of understanding between the Kazakhstan company Kazakhstan Engineering and the Chinese Poly Technologies.
At the moment, Kazakhstan is holding a tender for the construction of a new shipyard near the port of Aktau in the Caspian Sea, which will be engaged in the construction of civilian ships and warships.