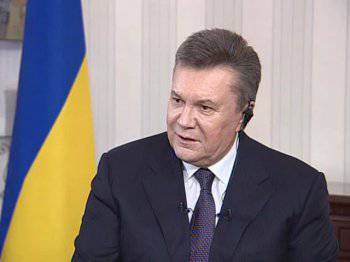 According to the information agency
"Vesti"
, Viktor Yanukovych commented on the continuation by Petro Poroshenko of an armed special operation in the east of Ukraine, stating that "starting the presidency with a bloody, deadly firework is a very bad sign." According to the fourth president of Ukraine, "people were waiting for the world from the new government."
Yanukovych stressed that after Poroshenko's election, he experienced "surprise, or rather shock: instead of peace and stability, a bloody massacre." According to him, the new Kiev authorities "cause anger and curses of mothers who see the death and suffering of their children, husbands and fathers."
"The majority of Ukrainians believed that with the advent of the new government, the political crisis would be overcome, and a peaceful period would come - the people were tired of confrontations that resulted in a real war," said Yanukovych.
It is worth recalling that after the February events in Kiev, Viktor Yanukovych had to leave Ukraine and move to Rostov-on-Don.
According to the agency, the new president of Ukraine Petro Poroshenko appealed to the United States with a request for direct military assistance.
According to Poroshenko, the special operation in the south-east of Ukraine, finally, began in earnest. "We will put an end to this nightmare, here is a real war against our country," he said in an interview with the German edition of Bild.