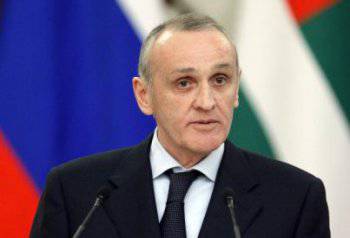 According to the
INTERFAX.RU
, President of Abkhazia Alexander Ankvab refused to leave his post until consultations were held "with another significant part of the deputies's corps who did not participate in the parliament's session with voters, public and political organizations that supported the legitimate power these days and called for opposition to return to the constitutional field. "
In addition, he said that he would not remove Prime Minister Leonid Lakerbaya from his post, despite the appeal by the parliament on Thursday. According to Ankvab, this issue is within the competence of the president.
As the agency notes, the coordinating council of the opposition political forces of Abkhazia creates the Provisional People's Council, which will include prominent politicians and public figures.
Oppositionists announced the creation of the Provisional Council at a rally of many thousands in front of the presidential administration building.
It is worth recalling that on May 27, the opposition seized the building of the presidential administration in Sukhumi, forcing the current president of the republic, Alexander Ankvad, to leave the building. Opposition representatives said they were taking control of the republic into their own hands, and announced the formation of a coalition government.