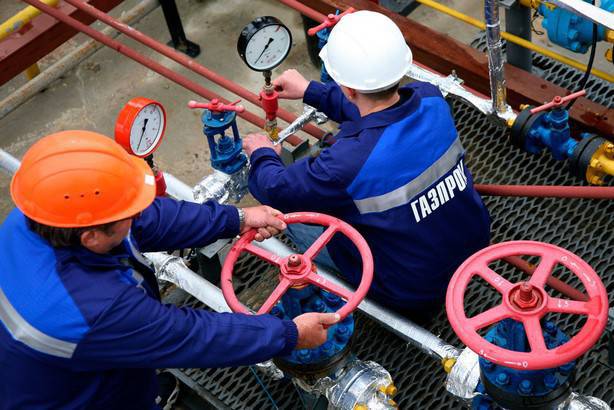 Ukraine will not buy Russian gas because of the high price. As Petro Poroshenko, who seems to have won the presidential elections, said, Kiev hopes for reverse supplies from Europe and LNG from the United States instead.
"Russia wants to sell gas to Ukraine for $ 500. Well, but Ukraine will not buy this gas, it doesn't need it," local media quoted him.
Kiev can not consume Russian gas. Ukraine does not want to pay for our gas, it will steal it. Tested, as they say, in practice.
Earlier, on Tuesday, Alexander Shlapak, appointed by the Verkhovna Rada Finance Minister, told reporters that Ukraine "will not pay anything" to Russia for gas, unless an agreement is reached to return to the previous price of imports of blue fuel at $ 268,5 damage per 1 thousand cubic meters. m
"We are ready to pay, after they (the Russian side) confirm the price of gas for the future. But the proposal that is expressed now is" you pay, and then we start talking, "we are not satisfied," the minister said.
The head of the Ministry of Finance noted the need to hold talks with Russia on gas, during which the parties must agree on a return to the price of fuel supplies at the level of $ 268,5 per 1 thousand cubic meters. m
"If there is no such agreement, we will not pay anything," Shlapak stressed.
In turn, the Russian side is ready to discuss the issue of gas discounts for Ukraine only after paying the debt. Russia is ready to reduce the price of gas for Ukraine in terms of zeroing export duties, but the amount of its reduction will be subject to negotiations after paying part of the debt. About this in the broadcast channel "Russia 24" said the head of "Gazprom" Alexey Miller.
On Wednesday, it was reported that Gazprom billed for gas on a prepayment for June, the payment term - 2 June until the end of the day.
Ukraine's liabilities to pay for Russian gas to 7 will exceed $ 5,2 billion in June, Gazprom head Alexei Miller said. According to him, Ukraine in May selects the maximum volumes of gas - for this month 3,5 billion cubic meters will be supplied. m of gas, the amount of payment - $ 1,7 billion.
At the same time, the EU proposes that Ukraine partially pay for supplies for the period from April, according to which gas prices persist, said European Commissioner for Energy Gunther Oettinger on Wednesday. According to Ettinger, Russia and Ukraine at the tripartite consultations "removed all disagreements on prices and volumes of gas supplied from November to March."
"The question of prices for April and May remains open," he noted. In general, the EU estimates the volume of Ukrainian debt of Russia for gas "at about $ 4 billion," said the European Commissioner.
The situation would be incomprehensible if it were not all so clear. Ukraine is not going to pay. No money left. Everything received from Europe has already been spent. Actually, not our business, where. Our business is to realize the aspect that the country is stealing a lot of money that would not be superfluous in the budget.
This raises some doubts about the effectiveness of the steps of our leaders, especially Mr. Novak. His statement at a meeting with the president that "Ukraine recognized its debts," a normal person could not fail.
Is this a working achievement? Is this a man doing his (rather big) ministerial salary?
Nonsense and nonsense. If Novak is unable to drive out our money, then it makes sense for Putin to think about a more decisive energy minister. Deputy DG Valuev, for example. Or Karelin.
Further. What the devil in general in the contract between Ukraine and Russia climbs with his assessments Ettinger? Not his gas, not his money to count. It is clear that Europe does not have a jarring jig about the gas, because the fact that Ukraine will start to steal their gas from a pipe in the winter will not go to Wang. Here, Gunter, work. But work with your euro-partner. That he will leave you without gas in the winter, not us.
The situation is simple and clear. But a frank, grip on the Ukrainian authorities requires an equally decisive response. It is time. And then soon they will not just sit on the neck.
Dear readers, it only seems to me that the valve should be shut off or not?