As reported
NEWS
, in the center of Kiev on Independence Square, the tent camp is still in place. According to representatives of the Maidan, they will not leave this place until their demands are met.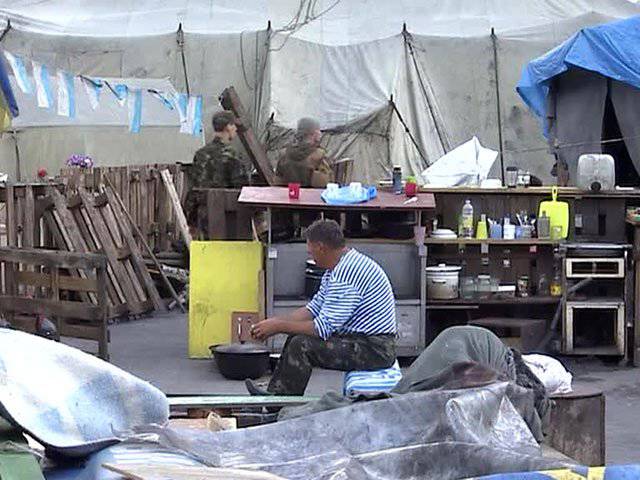 Today, at the press conference in Kiev, the Manifesto of the Maidan Communities on a vision of development after May 2014 was announced. It says that the Maidan will not disperse until the system of power is changed, constitutional order in terms of self-government is established, and a territorial community is established in the capital.
Protesters propose to change the structure of the Maidan, as well as to hold hearings on the use of the building of the Kiev city administration. If the Kiev authorities ignore this manifesto, then the activists plan to use the mechanisms of public pressure in the future.
According to one of the representatives of the tent camp, they expect to stay on Independence Square for at least another month. During this entire period, residents of the camp will observe the activities of Petro Poroshenko, who won the presidential elections in Ukraine.
Meanwhile, the leader of the UDAR party, Vladimir Klitschko, who won the mayoral election in Kiev, said that it was necessary to free the square and the main street for passage, especially since the barricades on the Maidan had already completed their mission.
Further, Klitschko stressed that the capital should return to everyday life, and all efforts should be focused on the early implementation of reforms. He also said that a memorial should be created in memory of those killed on Independence Square.
In the meantime, in the tent camp itself remains calm. In some places music plays, people cook food. Local souvenir merchants are preparing their goods for sale. Now this part of the city is of particular interest to tourists.
So far, no particular activity has been observed in this area, only a group of self-defense members from Kreshchatik went to the center of the square, and a new barricade appeared.