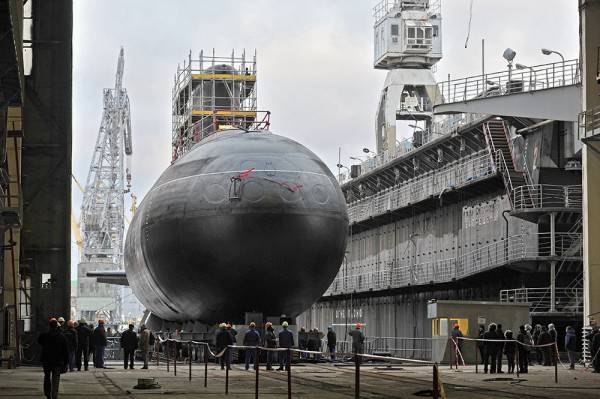 The third-generation diesel-electric submarine Novorossiysk of project 636.3 is the first of six mass-produced for the Black Sea
fleet
at the St. Petersburg "Admiralty Shipyards" - today she went to sea to factory sea trials.
They will last about a month and will mainly be associated with testing the performance of systems and equipment of the new submarine. Earlier, the submarine division commander of the Black Sea Fleet, captain 1 of rank Anatoly Varochkin, said that after completing the tests, the Novorossiysk would be included in the fleet, and its crew would work on the course tasks. This event is expected next year. But the team of the underwater ship has already been formed, moreover, completely from contract soldiers. All sailors had been trained in advance at the naval training center in Obninsk. As for the officers, they have an internship on similar boats in the Baltic.
Anatoly Varochkin emphasized that the new submarine has the optimal combination of target detection and secrecy. Using the natural acoustic background of the ocean as a cover, such submarines can detect an enemy at a distance 3 − 4 times the size at which they can actually be spotted. The submarine is equipped with an automated information management system and a modern inertial navigation system, which provides the best characteristics of the submarine among similar boats.
Recall that the diesel-electric submarines of the 636.3 project were developed at the Central Design Bureau of Marine Engineering "Rubin" (St. Petersburg). According to the designers, due to the low noise level, these boats are able to provide guaranteed pre-emptive detection and the ability to attack enemy ships from a long distance using anti-ship cruise missiles. The five main systems of new submarines, including the automated information management Lama, the Palladium boat control system and the Pyrite maneuvering control system are also developed in St. Petersburg. More precisely, in the concern "NPO" Aurora ".
The lead ship of the 636.3 project "Novorossiysk" was laid in August 2010. The second boat, the Rostov-on-Don, is in November of the 2011, the third, the Stary Oskol, in August of the 2012, and the fourth, the Krasnodar, on February of this year. They are almost 20 meters long and have a maximum submerged speed in 74 nodes. Submarines can dive to the 20-meter depth and a month and a half to walk autonomously through the seas and oceans. Manages a boat crew of fifty people. The armament of the ship is impressive enough - six 350-mm torpedo tubes. From there you can launch torpedoes (ammunition - 533 units), rocket-torpedoes (8 units), and also mines (4 units) on the enemy. Admirals have high hopes for new submarines. "If we link the prospects for a permanent operational connection of the Navy in the Mediterranean Sea with the upcoming reinforcement of the Black Sea Fleet by submarines of the 24 project, then it can be argued that the potential of this connection will be significantly increased and it will become completely self-sufficient in the nature of the tasks," fleet Victor Chirkov.