In a telephone conversation with Italian Prime Ministers Matteo Renzi, Russian President Vladimir Putin expressed condolences to the Italian policy in connection with the death of the Italian journalist and the Russian translator who accompanied him on the territory of Ukraine. Vladimir Putin stressed the need for an immediate cessation of the military punitive operation in the south-eastern regions and the establishment of a peaceful dialogue between Kiev and representatives of the regions. Reports about it
RIA News
.
The Italian Prime Minister praised the Russian-Italian cooperation on many issues. At the same time, Renzi said that the Ukrainian authorities should investigate the killing of an Italian citizen and a Russian citizen, which occurred at the time of the so-called anti-terrorist operation in the south-east of the country. The Ukrainian side promised the official Rome to make every effort for an objective investigation.
Is it worth being sure of the objectivity of the investigation from Kiev after the contrived accusations by the same Kiev of the Berkut fighters in sniper shooting on the Maidan and after the version that in Odessa anti-Maidan activists allegedly threw themselves at Molotov cocktails?
Against this background, the new Ukrainian leadership announces the continuation of the operation of the Ukrainian security forces in the Donbas. And the "prime minister" Yatsenyuk adds that there can be no negotiations with Russia in terms of resolving the conflict. The only option that allows Yatsenyuk, is to participate in negotiations with Russia with the mediation mission of Washington and Brussels.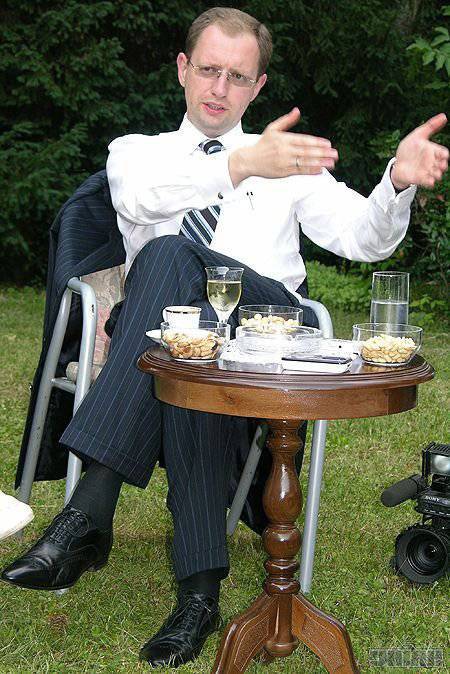 These words are quite consistent with other words of Yatsenyuk - words confirming the complete loss of sovereignty by Ukraine. "Premiere" of Ukraine, who spoke at a meeting of the "government", quoted the Ukrainian edition
"MFN"
:
Together with our European partners, we have created a support group for Ukraine and in each ministry an EU expert will now work, who will help Ukraine fulfill the agreement with the European Union and bring us closer to the European Union and European standards. Every reform required by the country and complying with the European standard will be carried out by the ministries and this is a priority task.
Recall that the newly elected "president" of Ukraine Poroshenko announced yesterday that he would meet with Vladimir Putin in June. Standing behind the backs of Brussels and Washington?