Planned tactical tactical exercises took place in the Caspian Sea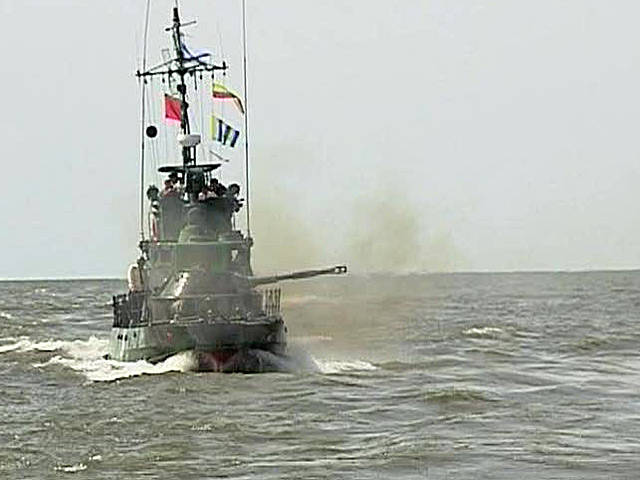 In the Caspian Sea, planned tactical tactical exercises were held, during which the artillerymen of the Bumblebee combat boats showed their skills. These ships are the only ones in the Russian Navy that are capable of operating both at sea and on rivers. In addition, they can be transported by land on railway platforms.
According to the legend of the exercises, a team of artillery boats is engaged in a battle with a conditional opponent. These teachings are unique in their kind. Artillery boats of the type "Bumblebee and small artillery ships of the type" Buyan "in the Russian Navy are represented only in the Caspian Sea. They can keep watch in the sea and on the rivers.
Designed "Bumblebees" and "Buyani" specifically taking into account the peculiarities of the Caspian region. On duty, they are almost 40 years, but to call them technically obsolete can not.
The main task of the exercises is to "shoot" and "swim" the youth. This year, the Caspian flotilla was replenished with several dozens of young officers. For some, these are the first teachings at sea and the opportunity to put theoretical knowledge into practice. The commander of the Caspian flotilla of the Russian Navy, Sergei Alekminsky, said: "They will work out the deployment phase at the sea, artillery firing, maneuvering - a number of tasks that are set in accordance with the training objectives."
The Caspian flotilla has provided for the interests of Russia in this region since the time of Peter the Great. Now that there are still no international legal documents on the division of the Caspian Sea, NATO is building up its forces in Afghanistan, and Iran is striving to become a nuclear power, the Caspian flotilla is, in fact, the last line of defense of our country in the region, so you have to be constantly alert . Only from the beginning of this year, the Caspian sailors conducted 130 test events and 60 combat exercises in the sea.
The past test and tactical exercises actually summed up the winter period of training the personnel. It was 70 going out to sea - 300 hours "floating" on each sailor. Ahead of the new stage - the strategic exercises "Center-2011". That's when the Caspian Flotilla will be given a final assessment.
Ctrl Enter
Noticed a mistake Highlight text and press. Ctrl + Enter