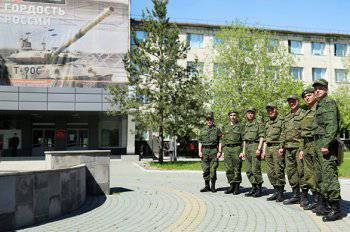 Press-center
"Uralvagonzavod"
reports that the 16 best crews from four military districts of the Russian Federation arrived in Nizhny Tagil to prepare for the second international championship "
Tank
biathlon-2014 ", which will begin on July 26 at the Alabino training ground in the Moscow region.
Contractors from the Murmansk, Novgorod, Chelyabinsk regions, Transbaikalia and the Chechen Republic will be trained at Uralvagonzavod for two weeks, performing competitive tasks on the T-72B3 tank. This is a modernized version of the serial model, which is in service with tank formations of the Russian army.
The first stage of training involves the study of the theory associated with the modernization of the T-72 tank. During the second stage, the tankers will consolidate theoretical knowledge on the tank conveyor of the Uralvagonzavod machine-assembly plant. During practical training at the site "Staratel" the testers of military vehicles of the enterprise will help the military.
Evening time is reserved for independent preparation. For the weekend, Uralvagonzavod has planned a number of sporting events, including futsal and football at the company's stadium, training in the pool and gym.
In late May, tankers will pass the final exams, receiving a document confirming the completion of training. 4, the best crews that won the district competitions, will represent the Russian Federation and the Uralvagonzavod research and production corporation in international tank biathlon competitions.